In the field of journalism, having the right skills is more important than having a bachelor's degree in a particular major. Although employers in the journalism industry may prefer to hire candidates with a journalism degree or at least a communications degree, reporters and other journalists can certainly come to the field from other backgrounds. Graduate school journalism programs, too, tend to accept students from diverse backgrounds, not only former journalism majors.
DegreeQuery.com is an advertising-supported site. Featured or trusted partner programs and all school search, finder, or match results are for schools that compensate us. This compensation does not influence our school rankings, resource guides, or other editorially-independent information published on this site.
The Benefits of an Undergraduate Degree in Journalism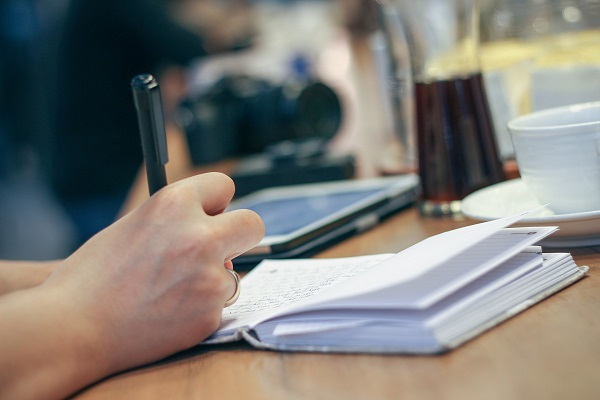 IMAGE SOURCE: Pixabay, public domain
Studying journalism at both the undergraduate and graduate levels isn't redundant. Master's degree programs in journalism delve deep into more advanced skills and more diverse types of writing and news reporting. Getting an undergraduate background in journalism isn't a requirement, but it can be an asset.
Students in a bachelor's degree program in journalism develop a foundation in journalistic research techniques, interviewing practices and ethics in reporting, according to the United States Bureau of Labor Statistics (BLS). Having this background to build upon can make it easier to grasp the advanced content found in graduate coursework. Some undergraduate journalism programs also allow students to specialize their coursework in a broad type of journalism, such as print media or broadcast media.
Of course, it isn't only the skills to write or otherwise create news content that students of journalism need to know. Studies in the types of topics in which strong journalists need background knowledge, like economics, political science and history, are also important, according to the BLS. If you have an interest in journalism in a certain field, choosing a minor or simply taking a cluster of courses in that area of study may be helpful. For example, a minor in biology or another natural science can prepare you to write in the field of science journalism. Aspiring business journalists might benefit from taking some classes in business, finance or economics.
Some master's in journalism programs require students to take a "boot camp" or graduate admissions courses, regardless of their academic background. In other master's in journalism programs, the only prerequisite is a bachelor's degree in any subject.
The Best Non-Journalism Majors for a Master's in Journalism Degree
Perhaps you aren't going to pursue a bachelor's degree in journalism, but you want to keep your options open for studying the subject at the graduate level. Consider an undergraduate degree in communications, English, political science, history or liberal arts. Reporters, news correspondents and other journalism professionals often come to the field from these backgrounds, according to the BLS.
Writing and the skills that go along with it, like research and critical thinking, are important abilities to master if you may want to work in journalism later. Programs of undergraduate study in communications and English may not focus on journalistic writing in particular, but they will provide you with plenty of practice in reading, writing, editing and analyzing writing. The same is true for a general undergraduate degree like liberal arts. Although you aren't learning technical skills and knowledge in these courses of study, you will develop some of the skills that are most important to journalists.
Coursework outside of these majors can also be valuable for aspiring journalists. For example, computer programming, computer science and software engineering may not seem like disciplines that have much in common with journalism, but the skills students learn in these fields are beneficial. Learning multimedia design and computer coding and programming can help you succeed in the modern world of journalism, where news content is often delivered online in interactive multimedia formats, according to the BLS.
You might also leverage an undergraduate background in a discipline unrelated to journalism to pave a path in reporting news in that discipline. An undergraduate art degree and a master's in journalism degree, for instance, could add up to journalistic work covering an arts, culture and entertainment beat. In other beats, like sports reporting, health reporting and education reporting, having some kind of background in the subject will help you start off on the right foot. Of course, you don't have to be a professional athlete, a doctor or a teacher to write about these subjects well, but having some amount of education or experience in these areas is an asset.
If you didn't major in journalism but you can show your journalistic interests in other ways, such as extracurricular participation in your school newspaper or magazine, that experience could be a big point in your favor.
Additional Resources
What Do Most Journalism Programs Look for in a Statement of Purpose?
What Counts as Journalism Experience for Graduate School Admissions?
Am I Better Off Getting Letters of Recommendation About My Ability to Write or About Potentially Being a Journalist?