A master's degree in human resources is among the top degrees for the highest-paying business careers, but before you can pursue graduate studies, you need to finish your undergraduate coursework. You may wonder how important it is for admission into a master's in human resources program that you have a bachelor's degree in HR specifically. Although students often do choose to major in human resources as an undergraduate student and subsequently pursue a master's in HR, this isn't the only possible path you could take. Some students choose a different undergraduate major and later seek a master's in HR, while some former HR students seek a broader Master of Business Administration (MBA) degree at the graduate level.
What Really Matters for Admission Into a Master's in Human Resources Program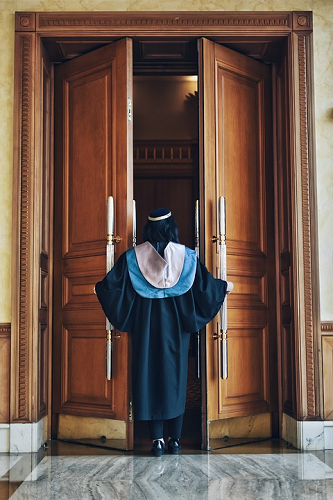 IMAGE SOURCE: Pixabay, public domain
If you're holding off applying to a master's degree program in human resources because you didn't major in HR as an undergraduate, it's time to take your next step. Although some graduate programs in human resources may require applicants to have a bachelor's degree in the subject already, many HR master's programs have no specific educational prerequisites.
Instead of focusing on what major you chose as an undergraduate, most master's of HR programs are more concerned with the quality of your academic performance and with what you have accomplished since your undergraduate studies. A specialized master's in human resources program will usually build on students' existing knowledge of work in the HR field, so you should have at least some work or internship experience in this area of business. You may need letters of recommendation from former college instructors or from professional contacts who can speak to your skills, work ethic and ambition.
If you didn't major in HR as an undergraduate, use your application essay or personal statement to explain your career path and how the specific human resources program to which you are applying will help you achieve your human resources career goals.
A Human Resources Professional's Educational Options
Given the importance of your personality traits and soft skills in the field of HR, as well as the ability to learn on the job, there are many different educational paths you can take to work in human resources. Some of the non-HR undergraduate majors that commonly lead to employment in a human resources role include sociology, psychology, liberal studies and communications. However, the biggest overlap is between human resources and business administration, and students can move between these fields of study in either direction.
If you start out as a business major, you complete undergraduate courses in a breadth of business topics, gaining the foundations of each business function even if you don't delve deeper into those fields. Human resources is one of the subjects you are likely to function, but other topics may include finance, accounting, management, organizational behavior, marketing and economics. Whether you decide during your studies that you like learning about HR or simply wind up working in a human resources role after graduation, you can easily build on these business foundations from your undergraduate program when you go to earn a master's degree in HR.
Switching from undergraduate studies in human resources to a more general graduate business program may be more complicated, but it's definitely doable. This path may make sense for you if you pursued a bachelor's degree in HR but, after years being out in the workforce, wanted to make a change or specifically to move up into higher-level management positions that weren't necessarily focused on human resources. In this case, an MBA may be a better fit for you than a master's in HR specifically. The broader focus of an MBA makes this degree more versatile and can help you move up into leadership roles outside of human resources. However, that means you will need to complete graduate-level study in topics like finance, accounting and economics that you might not be familiar with, since you didn't study them extensively as an undergraduate.
Some MBA programs have prerequisite finance, accounting and economics courses, so HR workers without a background in these quantitative areas of business administration may need to take non-degree courses in these subjects before you start working on your degree.
A More Focused Curriculum for Graduate HR Students
If you majored in HR as an undergraduate and are eyeing a Master of Science degree in human resources, you may worry that your coursework will be redundant. Having an undergraduate background in human resources is valuable for understanding the foundations of HR, but the coursework is different enough at the graduate level to keep you interested, even if you studied the basics of the field years ago.
That's because graduate programs in human resources go beyond what's covered in a typical undergraduate HR course. You get to delve deeper into an area of specialization through master's-level courses like global and cultural effectiveness and strategic positioning and social change. Through advanced study in the human resources field, you have the opportunity to sharpen your skills in screening and recruiting talent, managing worker performance, interpersonal communication and other crucial areas of HR.
Although it's possible to pursue a master's in HR without formal studies in human resources, these graduate programs typically require students to have at least a basic level of foundational knowledge of the field from work experience.
Additional Resources
Is a Master's Specifically in HR More Useful Than a General MBA?
What Is the Difference Between a Certification in Human Resources and a Master's Degree in HR?
What Is the Difference Between a Human Resources Degree and a Business Degree?
How Advanced Does My Degree in Human Resources Need to Be to Get a Good Job?