A bachelor's in management information systems (MIS) is one of the top degrees for the highest-paying business careers, so it might surprise you to learn that this program has a lot to do with computers. You need plenty of computer proficiency to work in the field of management information systems, but don't mistake this interdisciplinary program or career field for a primarily technical major like computer information systems or computer programming. Although both business and computer skills are essential in management information systems, it's somewhat more important to excel at business than at computers to succeed in this field.
The All-Important Business Side of Management Information Systems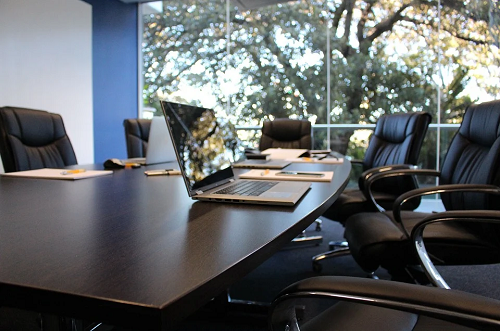 IMAGE SOURCE: Pixabay, public domain
What management information systems is, at its core, is a study of people and organizations and the ways technology can be implemented to help improve businesses processes. It's worth noting that many bachelor's degree programs in MIS are offered through business schools and departments, rather than through science or computer science departments. That's because the focus of the program is on business processes and relationships, with technology as the tool to manage and improve these processes. Your core curriculum in an MIS degree will most likely include studies in organizational and strategic management as well as other business areas, such as finance, accounting and marketing.
Even in businesses that don't revolve around computers, technology is crucial to the operations of companies and organizations in today's business world. Companies use computer systems for everything from tracking sales and inventory to compiling client files and managing employee payroll. Because technology is so pervasive in business – and only becoming more prevalent as it evolves – the job opportunities in fields like MIS are strong. For computer and information systems managers, the United States Bureau of Labor Statistics (BLS) expects jobs to increase at a much faster than average rate of 11 percent, or more than 46,000 new jobs, over the course of a decade.
The technological solutions you create in a career in management information systems help businesses do much more than manage the computer side of things. By tracking sales and trends, your system provides data that companies use to guide the direction of the business.
Computer and Technology Proficiency for MIS Majors
Business may be the star of an MIS curriculum, but you can't succeed in this field without technical proficiency. You should expect to take classes in information systems and technology, computer-based analysis, database management systems, systems analysis and design and the skills to develop business applications. By the time you graduate, you should know not only how to create and use business applications and information systems but also the practical aspects of how business leaders and personnel will use these systems to streamline operations and influence strategic decision-making.
You may not take quite as many technical computer courses in a bachelor's degree program in MIS as your peers in a computer information systems (CIS) degree program do, since your curriculum encompasses much more in-depth study into business operations. However, interacting with computers is the single most important work activity in the field of computer and information systems management, O*NET reported. Some of the types of technology that you most need to be familiar with include business intelligence and data analysis software, database management software, customer relationship management software and development environment software.
Because computer and information systems technology continues to advance, you will need to keep learning new technologies as they evolve so that you can stay up to date on new breakthroughs in the field throughout your career.
Blending Business and Computer Technology
Some technology-based careers are ideal for those who prefer to work independently – just themselves and the computer coding – but jobs in management information systems aren't among them. You need to not only work with people on a regular basis but also develop technical information systems carefully designed to fit the needs of the people within your organization.
The most important core tasks of a career in information systems management bring together business management duties and technical job duties. On a given day, you could be responsible for directing operations, meeting with department managers, consulting with users about what the company needs, developing computer information resources, handling technical support requests and reviewing the work of systems analysts.
Although the answer to which area is better to be stronger in is technically business, the reality is that you must have strengths in both business and computers to succeed in this career path.
Additional Resources
What Are Some of the Typical Courses That Are Part of a  Bachelor's in Management Information Systems Degree?
What Are Some Computer Languages I Should Be Familiar When Beginning a Bachelor's in Management Information Systems Degree?
What Degree Do I Need to Become a Computer and Information Systems Manager?