With a master's in human resources – one of the highest-paying master's degrees – there's a clear career path: HR manager. If you're considering this degree program, you might wonder what a career as a humans resources manager would look like. The job responsibilities that you're most likely to be charged with as an HR manager include overseeing recruitment and hiring, handling staffing and employment issues and planning a company's workforce.
Manage Talent Acquisition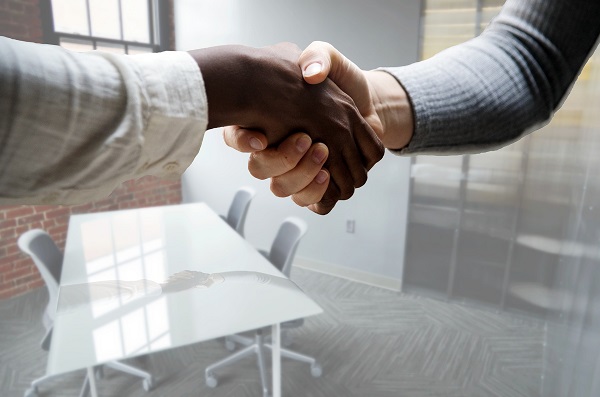 IMAGE SOURCE: Pixabay, public domain
Perhaps the most fundamental job responsibility of human resources professionals is acquiring the talent that keeps a business running. This work includes overseeing recruiting efforts and interviewing and hiring processes, according to the United States Bureau of Labor Statistics (BLS). When focusing on talent acquisition, a human resources manager may handle multiple stages of the hiring process, from pinpointing staffing needs to putting together tests for job applicants and analyzing the results of those tests, O*NET reported.
Acquiring talent is one thing, but keeping workers around and developing them to their full potential is another thing. HR managers are responsible for planning and overseeing the administration of employee benefit programs that keep employment situations competitive so that their best workers don't want to leave. While compensation and benefits packages are important to minimize turnover and maximize employee retention, workers also care about their ability to grow professionally and gain new skills. To keep employees engaged, as well as to equip them with the evolving skills needed to bring the most value to the company, human resources managers evaluate workers' training needs and plan skills development programs.
Part of an HR manager's job is to ensure that the company complies with all laws during the hiring process, avoiding risks of lawsuits, The Houston Chronicle reported. Of course, HR managers also want to make sure the applicant hired is the right fit for the company.
Resolve HR and Staffing Issues
When challenges and complications arise in human resources, resolving those problems is a human resources manager's job. Some of these issues are delicate, and many are difficult to deal with, so this work requires a level-headed individual with plenty of stress tolerance and self-control.
Sometimes disputes arise between workers, and a human resources manager has to resolve those conflicts. In other instances, employees who fail to uphold company rules and policies may face disciplinary action. Human resources personnel may have to administer these penalties or direct disciplinary procedures, the BLS reported. This may include taking part in a disciplinary or legal hearing or investigation, according to O*NET. HR managers may also be responsible for terminating employees and for conducting exit interviews when workers leave, whether voluntarily or because they were laid off or fired.
Further, management and administration throughout an organization might depend on human resources managers to make sure that workers are treated fairly. To other departments, HR managers may act in a consulting role, advising on any matter that could pose legal problems, the BLS reported. For example, an HR manager must intervene in behaviors of any part of the company, especially on the part of management, that could constitute sexual harassment or a violation of equal opportunity employment laws.
It isn't only conflicts among personnel or between personnel and management that human resources managers must solve. When employee turnover or explosive growth leaves a company understaffed, an HR manager needs to find short-term and long-term solutions.
Perform Duties in Strategic Planning
Human resources managers do more than respond to problems like job vacancies and HR issues. They also proactively plan for the future of the organization. Strategic planning of a company's workforce, including when and how to grow the workforce and how to coordinate employees' efforts to achieve maximum productivity and efficiency, is one aspect of human resources.
The higher up an HR professional is in the hierarchy of the company, the more of their time they are likely to spend on these big-picture planning responsibilities. Strategic planning tends to make up a much bigger part of a human resources director's job than it does of an assistant human resources manager's job.
For their own team of human resources specialists and support staff, HR managers serve as immediate supervisors. For the rest of the organization, human resources managers serve as a link that joins the workforce with company management, the BLS reported.
Additional Resources
How Can an HR Manager Help Shape Corporate Culture?
How Much Does Social Media Play Into the Everyday Doings of an HR Manager?