Although your reason for choosing one of the fastest online associates degrees may be to enter the workforce quicker, you know that you may need more than an associate's in human services degree to reach your career goals. There are plenty of bachelor's degree programs that fit with the studies you have already completed and the skills you have already learned in this program of study and can help you advance. Depending on what you want to do with your career, you may choose to go on to earn a bachelor's degree in human services, community health education, social work or counseling.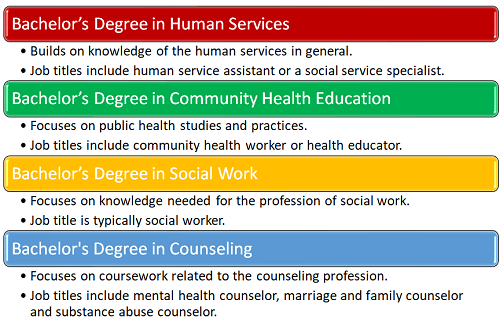 Bachelor's Degree in Human Services
A four-year degree in human services may seem like the next logical step if you already have a human services associate's degree. It certainly is the most direct path you can pursue, as well as the broadest.
The broad curriculum of a bachelor's degree in human services builds on the foundation you already have to expand your skills and knowledge of the human services field in general. Through courses such as Theoretical Approaches to Service Delivery, Case Management in Practice, Social Problems and Advocacy, Models and Techniques of Effective Helping, Dynamics of Human Ecosystems and Working With Special Populations, you become more highly qualified for a range of positions in community and social services. Field experience through an internship can help you prepare for the real-life challenges and scenarios you will face in your future career.
A bachelor's degree program in human services may be the right choice for you if you want to keep your options open as a generalist instead of specializing in one particular area of social services. However, it won't qualify you for professional licensure in the helping fields that require a license.
Your job title with a bachelor's degree in human services may not be much different from what you would find with an associate's degree. You might be classified as a human service assistant or a social service specialist. However, you stand to gain financially from having a higher level of education. The more advanced your degree, the more money you can expect to make as a social and human service assistant, according to the United States Bureau of Labor Statistics (BLS).
Choosing a human services bachelor's degree program that functions as a degree completion program – one meant for students with an associate's degree or equivalent prior college credits – may make the transfer process easier.
Bachelor's Degree in Community Health Education
Some careers in human services focus on bringing healthcare knowledge and accessibility to the community. If community health worker or health educator sounds like a role you would like to pursue, the best four-year degrees for you may be a bachelor's degree in community health education or a bachelor's degree in public health.
The core coursework of a four-year community health education program often begins with introductory courses in public health studies and practices. You may study topics such as public health diseases, epidemiology, environmental health, community health interventions, program planning and evaluation, the United States healthcare system and the analysis of public health data. An internship is often an important part of your community health education program. Although these classes may have more of an emphasis on healthcare topics than the classes you took for your associate's degree, your prior coursework in understanding and helping communities provides a great background for this degree and a community health career path.
Some community health education programs prepare you to take the Certified Health Education Specialist (CHES) exam and acquire professional certification from the National Commission for Health Education Credentialing.
Bachelor's Degree in Social Work
A Bachelor of Social Work (BSW) would prepare you for a career as a social worker. In this vocation, you would devote your career to helping others, especially people in stress or crisis and members of underserved communities and disenfranchised populations. You might advocate for clients in public policy matters or provide direct service to help them find access to resources and programs that their needs.
In a BSW curriculum, your core coursework will cover the skills, perspectives and knowledge needed for the profession of social work. You may learn about the history of social welfare in the United States, social welfare values, social work practice, service learning, institutional racism, the role of a social worker in groups, social research and the impact of the social environment, including communities and organizations, on human behavior. Through field practicum courses, you gain hundreds of hours of supervised experience handling professional tasks in the social work field.
If you want to work in clinical social work practice, you'll need more than a bachelor's degree. Licensed clinical social workers (LCSW) need a Master of Social Work degree and supervised clinical experience before they can earn this credential, the BLS reported.
Bachelor's Degree in Counseling
Many counseling roles – mental health counseling, marriage and family counseling and substance abuse counseling, for example – fit into the helping professions. If you think you would make a good therapist, you could build on the skills you learned in your human services associate's degree program to launch a degree in counseling.
Counseling degree programs are more common at the master's level than the bachelor's level, because many licensed professional therapist positions require a master's degree. However, programs in addiction and substance abuse counseling are popular at the bachelor's degree level. You can also choose a pre-professional bachelor's in counseling or a bachelor's degree in psychology to prepare for graduate study in professional counseling.
In a bachelor's degree program in addiction counseling, you will study general coursework related to the counseling profession, such as counseling theories and multicultural counseling. Much of your coursework will pertain directly to substance abuse, including the foundations of addiction, group interventions and community resources for substance use disorders, case and crisis management pertaining to substance use, relapse prevention, the effects of family dynamics on substance use disorders, spirituality and addiction and psychopharmacology in addiction treatment.
Working in private practice requires a master's degree in counseling. O*NET reports that 62 percent of mental health counselors and 30 percent of substance abuse counselors have a master's degree. Marriage and family therapists have a master's or professional degree.
Related Resources: 
Many Jobs in Human Services Require a Master's. How Helpful Will an Associate's Degree Be in Getting These Kinds of Jobs?
What Kind of Job Can You Get With a Degree in Human Services?
What Is the Salary Potential for Someone With a Health Education Degree?
How Advanced Does My Degree in Social Work Need to Be to Get a Good Job?
How Advanced Does My Degree in Counseling Need to Be to Get a Good Job?
For Further Reading: