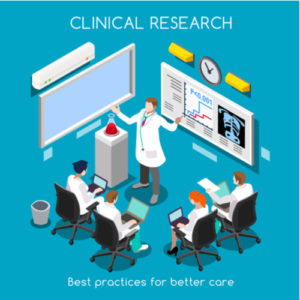 Clinical research can take on different forms, and the specifics depend on the type of information that the researcher(s) is interested in gathering. Many individuals that pursue this type of career have a strong background in science and mathematics.
Types of clinical research
Clinical research is the study of the health and illnesses of humans. It is an opportunity to learn how to prevent, diagnose, and treat diseases and medical conditions. Clinical research can describe many different elements within the field of scientific investigation. Naturally, it requires human participants and helps translate basic research (performed in laboratories) into new treatments, medications, and information that can benefit many patients. Clinical trials, as well as research in health services, education, physiology, pathophysiology, epidemiology, and outcomes, are all included in clinical research. Various types of clinical research encompass the above and use depends on what the researcher(s) is examining. Below are some descriptions of different categories of clinical research.
Screening– designed to discover the best ways to identify specific medical disorders or health conditions
Prevention– determines better ways to prevent particular disorders from developing or recurring. this type of research may look at medicines, vaccines, vitamins, and minerals, or lifestyle changes
Diagnostic– diagnostic analysis refers to the practice of determining better ways to detect a specific medical disorder or condition
Treatment– commonly includes an intervention such as a new device, medication, psychotherapy, or a new approach to radiation therapy or surgery
Behavioral– the main focus is to recognize emotional and behavioral disorders, prevention, and treatment. This involves the use of behavioral, cognitive, and psychophysiological methods and models.
Genetic– aims to enhance the prediction of medical disorders by identifying and recognizing how illnesses and genes may be linked. This clinical research may explore ways that a person's genes make them more or less susceptible to developing a particular medical disorder. The findings can lead to the development of pinpoint treatment options based on the patient's genetic make-up.
Quality of life– explores ways in which research can improve the comfort and quality of life for patients with chronic illnesses
Epidemiologic– pursues ways to identify patterns, causes, and control of medical disorders in certain groups.
Career paths in clinical research
There are several career paths that people can take as an entry point into clinical research. This is a challenging field to gain employment in unless you have an advanced degree. Many positions require a graduate or post-graduate degree in either nursing, life sciences, or medical science. At a minimum, candidates will need to know at least one subject, including anatomy and physiology, biology, biochemistry, chemistry, immunology, microbiology, pharmacology, and toxicology. Post-graduate courses in clinical research could provide increased knowledge about clinical trials and offer a competitive edge when seeking employment. The following are some of the most sought after positions.
Clinical Research Associate (CRA)
The position of CRA is the most popular way to enter the field of clinical research, partly because such jobs are typically plentiful. This person can act as the representative of the sponsoring company and ensures adherence to all policies and procedures during the long, highly complex, and costly clinical trial process. CRAs can gain employment with either the sponsor company or by a contract research organization (CRO). A CRO is the type of company engaged by pharmaceutical or biotechnology companies to help guide a drug through clinical trials. This position may require a great deal of travel from trial site to trial site, monitoring the trials activities, coordinating documentation, and meeting with clinical investigators. Success as a CRA requires attention to detail, excellent organization, and people skills.
Biostatistician
Data, the product of a trial, requires gathering, analyzing, and interpreting. This is where the biostatistician performs their work. The U.S. Food and Drug Administration (FDA) approves a new product only if the data meets specific statistical criteria.  The position of a biostatistician is critical in a trial's success. Sponsoring drug companies use biostatisticians prior to implementing a trial to determine set parameters for data collection and review. The primary work of a statistician is analyzing trial data and extracting the results.
Clinical Research Epidemiologist
Most scientists entering into the field of epidemiology have a minimum of a master's degree and typically do not work directly with patients. Clinical research epidemiologists generally work for drug companies or health organizations, completing clinical trials of drugs, procedures, monitoring side effects, and results. Intending to uncover new medications or treatments, the work takes place in laboratories and focuses on reducing adverse health outcomes. These scientists predominantly work behind the scenes to improve the health and wellness of patients.
Clinical Quality Assurance Auditor
A clinical quality assurance (CQA) auditor inspects all of the documents and processes related to a study and ensures that they all within compliance for the standard operating procedures (SOPs) and good clinical practice (GCP) guidelines. Today, studies are conducted around the world, and there is mounting pressure to synchronize procedures and standards. The CQA auditor is involved in numerous aspects of clinical studies, ensuring the compliance of ever-changing rules and regulations.
Additional skills for clinical research
Clinical trials are completed in different phases and at numerous locations. A clinical researcher may participate in all the stages of the trial. Management of clinical research and trials is similar to managing large projects, so you must possess project management skills. Also, the following qualifications are essential for completing job responsibilities.
Excellent communication skills
Attention to detail
Data analysis skills
Multi-tasking and quick thinking
Flexibility
Exceptional organizational and time management abilities
Good IT and administrative skills
Careers in clinical research can offer solid stability in the job market as well as being financially rewarding. At a minimum, you will need a bachelor's degree in life sciences, nursing, biotechnology, or a relevant clinical science to be eligible to enter the workforce in the clinical research. These degrees can provide the foundation you need to understand better the type of research conducted. However, to advance within this field, additional education is required. It is important to invest in yourself. Investing in further learning is an excellent way to show potential employers that your dedication to transitioning into the clinical research field.
Tracy Everhart
Master of Science (M.S.), Complementary Alternative Medicine | American College of Healthcare Sciences
Master of Science (M.S.), Nursing | Yale University
Bachelor of Science (B.S.), Microbiology | Hampshire College
September 2019
More Articles of Interest: