What makes liberal studies one of the easiest online master's degrees is its general, cross-disciplinary curriculum. Many kinds of skills pair well with this general program of study, including technical and scientific skills and specialized knowledge of fields like history, art and anthropology.
Understanding the Purpose of a Master's in Liberal Studies Degree
In most situations, students complete more generalized studies at the undergraduate level and advance to more specialized, high-level study at the graduate level. That may not be the case when pursuing a Master of Liberal Studies or Master of Arts in Liberal Studies degree. These multidisciplinary programs encompass coursework from a huge variety of disciplines and subdisciplines and typically give students a great deal of freedom to customize their education.
Liberal studies programs are structured this way because they aren't intended to prepare you for specific career paths, but rather to broaden your intellectual horizons. In these programs, you will do a lot of reading, learning and critical thinking about topics of interest to you – which can range from ancient history to today's biggest issues. This general, skills-focused program of study might complement the skills you have developed in a more technical or specialized area as an undergraduate.
Although going to graduate school purely to explore your interests may sound frivolous, employers in every field value the skills you develop in a liberal studies program.
Technical, Scientific and Computer Skills
If your undergraduate coursework focused on technical know-how, you may have plenty of skills in this department. However, you might have trouble reaching your career goals – like a promotion or a job with a sought-after company – unless you develop stronger soft skills.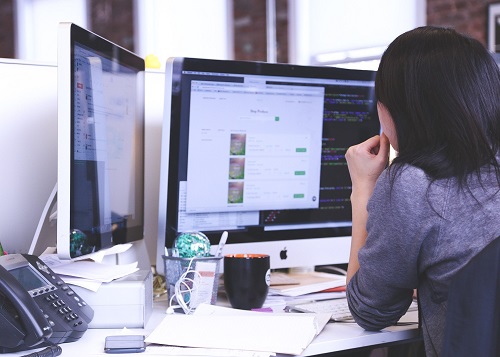 IMAGE SOURCE: Pixabay, public domain
For example, computer science, programming and information technology (IT) skills are valuable. They prepare you for a great career path with a lucrative salary potential. If you want to become a project manager, work your way up to a senior-level role like chief technology officer or successfully start your own firm, though, you may need to brush up on your communication and critical thinking skills. That's where a master's degree in liberal studies can help. These skills can help you better understand the non-technical aspects of your work – like what user factors should be considered and how to communicate with non-technical audiences, like clients or consumers.
Like computer and technology programs, bachelor's degree programs in mathematics, the physical and natural sciences and engineering focus narrowly on technical skills and knowledge. However, true expertise in any of these subjects requires more than the ability to perform equations or laboratory work. You have to develop a comprehensive understanding of any problem before you attempt to solve it.
Your technical skills and knowledge are what qualify you to work in IT, computer science, math, natural science or engineering, but the versatile skills you gain pursuing a liberal studies degree give you a framework that allows you to take your career to the next level.
Knowledge of Individual Fields Within the Humanities
If you already studied a discipline of the humanities, like history, art or anthropology, you probably already have strong skills in critical thinking and communicating. You also have some specialized skills, such as authenticating and synthesizing historical documents, classifying the style of artwork or using anthropological research methods. What a master's degree program in liberal studies can add is a broader context in which to consider your area of focus.
A course in writing about social issues can help you make connections between historical trends and movements and modern society. A class in film and media studies can help you expand your definition of what constitutes art and apply the critical framework you already have to different types of media and artistic works. For an anthropologist who already studies culture, coursework focusing on the intersection of culture with health or science can give you another lens through which to view your findings.
No discipline, whether in the humanities or in technical fields, operates in a vacuum. Being well-informed and able to think critically and creatively about a variety of topics can only improve your overall perceptiveness.
Where Might a Master's in Liberal Studies Degree Fit Into Your Educational Path?
A master's in liberal studies degree is an option for students from just about any academic background. However, it's far from the only option for any career or academic path.
How does a computer science professional justify choosing a liberal studies master's degree over a Master of Science in Computer Studies? Wouldn't graduate studies in applied math, biochemistry or a specialized discipline of engineering be a better fit for advancing your career in one of these roles? Why would a history major go to graduate school for liberal studies instead of further graduate studies that specialize in the historical period that most interests them?
When it comes to choosing between specialized, technical studies and liberal studies at the graduate level, there's a tradeoff. It's important to think about what you want out of your education and career. If you're aiming to acquire more advance specialized skills, a master's in liberal studies isn't the right choice for you. On the other hand, if you've got the strong technical knowledge base you need but you want to develop yourself intellectually, you'd be better off with liberal studies. You won't get that outcome from a technical master's degree program.
Although you have to choose which path to take at the master's level, you aren't as limited as you might think. Students who complete a master's degree in liberal studies often go on to earn a doctorate in a more specialized field, including technical fields like cybersecurity. Taking this route can offer you the best of both worlds: graduate studies that expand your general skills and knowledge and doctoral studies specific to your career path.
Students often enter a master's in liberal studies program for personal reasons. Although you want your education to boost your career, the intellectual development you gain from these programs also makes you a more knowledgeable, well-rounded person.
Additional Resources
What Skills Do I Gain With Liberal Studies?
Are Companies Interested in Someone With a Liberal Studies Degree?