A common question among people who want to work in real estate is: do you need college to be a real estate agent? The short answer to the question "does real estate require college?" is that you may not need a degree, but in most cases, there are benefits to having one.
Do I Need to Have a College Degree to Become a Real Estate Agent?
Before we get into the answer to the question "Do real estate agents need to go to college?", let's go over what being a licensed real estate agent entails.
What Do Real Estate Agents Do?
Real estate agents are professionals involved in real estate transactions. This means they handle the buying and selling of homes and land. Real estate agents help clients buy or sell both residential properties to live on and commercial properties for business uses.
Some real estate agents help clients sell real estate. Others help clients find a home to buy. Often, real estate agents work for both buyers and sellers.
In some instances, the same real estate agent may even work as both the listing agent for the seller and the buyer's agent in the same transaction. The name for this practice is dual agency.
Although you may most commonly associate real estate agents with the sale of properties, some agents work in property rentals. They may help landlords list a property to rent and vet potential renters. They may also help prospective renters find a place that meets their needs.
There's a lot that goes into the sale of real estate. Among the job duties most real estate agents perform are:
Listing properties that are for sale and create descriptions and promotional materials
Facilitating real estate transactions by advising clients on the prices they should set, the offers they should make or accept and what to expect from the process of buying or selling a home
Showing properties that are for sale to prospective buyers
Negotiating deals on behalf of clients (buyers and/or sellers)
Preparing purchase agreements, closing statements, lease agreements and other contracts and documents
Do you need a degree for real estate jobs that have you performing these sorts of duties? Technically, no. Other forms of professional development, like pre-licensing real estate courses that aren't part of a degree program, can also equip you with the skills needed for these duties.
The Benefits of a Career in the Real Estate Industry
There's a lot to like about a real estate career. Successful real estate agents can make a good living. They often have flexibility in their job. The best real estate agents like what they do, including getting to know clients, helping clients find a property that is the right fit for them and negotiating the deal.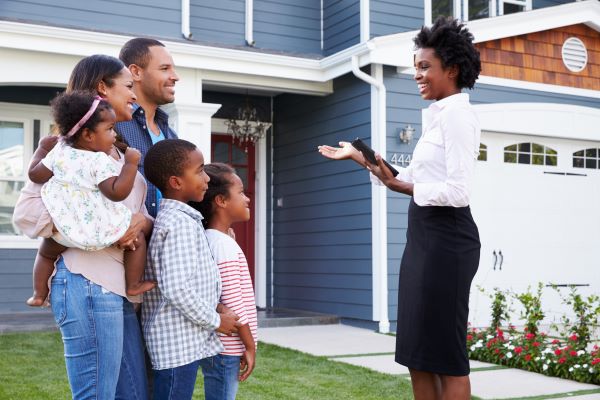 One thing that's particularly noteworthy about the real estate career is that real estate professionals can make make a good living even with no college degree. The median salary for real estate agents and brokers in 2021, according to the United States Bureau of Labor Statistics (BLS), amounted to $48,770. That works out to more than $937 per week – almost as high as the $963 median weekly wage the BLS reported for workers with an associate degree in 2021.
College Degrees and Real Estate Professionals
Do you have to go to college to be a real estate agent? While the official answer is "no," the matter gets more complex. Just because a college degree isn't a strict necessity for a real estate career doesn't mean there's no value in having one.
As you begin exploring your career options in real estate, you are likely to notice that several schools offer college degree programs in real estate. Spend some time looking through real estate job listings, and you will notice that some employers or positions require or prefer a degree. These details sometimes prompt prospective students to ask, "Do you need college to be a real estate agent?"
There's a reason so many colleges offer real estate degrees and employers sometimes require agents to have an associate or bachelor's degree. Although a degree isn't strictly required to work in real estate, having one can often be beneficial. For some specific employers or positions, the answer to the question "Do you need a degree to be a real estate agent?" is yes – but only for that specific role or brokerage firm.
RELATED: If I Want to Become a Real Estate Agent, How Much Will a Degree in Real Estate Finance Help Me in Being a Better Agent?
Having a real estate degree – or a degree in any related field – can help you get promoted to roles that confer more responsibility. These real estate industry roles include real estate broker or manager.
A formal college education in real estate can also be helpful if you want to run your own business, like a real estate brokerage firm or even a property management company. A less formal real estate agent education course may equip you with the knowledge required for real estate licensure, but it won't cover related career skillsthat can help you run a successful business. The additional coursework you complete to earn a college degree can help you develop more breadth and depth of skills and knowledge compared to an educational program that covers only the basic requirements for getting your real estate license.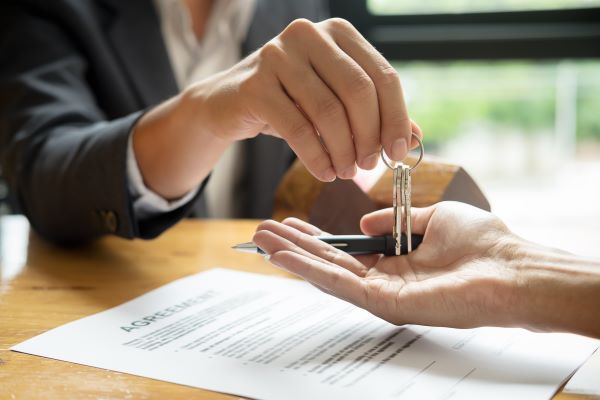 Why You Don't Need a Degree to Be a Real Estate Agent
The simple answer to the question "can you be a real estate agent without college?" is yes.
The minimum formal educational requirements to become a real estate agent, according to the BLS, is a high school diploma. If you didn't finish high school, the equivalent of a diploma, such as a GED, will also suffice.
So, what do you need to become a real estate agent? Since the answer to the question "do you need to go to college to be a real estate agent?" is no, strictly speaking, the biggest barrier to entry in this occupation is the need to qualify for a real estate license. What you must have to be a real estate agent is a license awarded by the state or states in which you work.
RELATED: How Does Someone Become a Real Estate Agent?
Real estate agents in all states in the U.S. must hold a real estate license, the BLS reported. Without a license, you cannot practice real estate.
How do you get your real estate license? Real estate licenses are issued by individual states, so it's important to check with your state board to learn more about your state's requirements.
RELATED: Are There Different Rules in Different States for Real Estate Agents?   
In most states, though, the criteria required to become a licensed real estate agent include:
Meeting an age requirement (typically at least 18 years old)
Completing some pre-licensing real estate courses
Earning a passing score on a professional licensing exam
Potentially undergoing a background check
Pre-Licensing Real Estate Courses
There are education requirements for acquiring a real estate license. These requirements just don't include a formal degree from a college or university. That's why the answer to the question "do you need a college degree to be a real estate agent?" is "no," even though you must complete some real estate courses.
Real estate pre-licensing courses typically include studies in the following areas:
The principles and practices of real estate sales
Real estate economics
Real estate finance
Business and real estate law
Appraisal
Escrows
Mortgage loan lending
Real estate computer applications
Property management
There are different types of real estate pre-licensing programs. You may choose to take real estate relicensing courses at community colleges or four-year colleges, but you don't have to. Many of these programs are offered through separate real estate schools.
Whether you decide to prepare for your future career by taking pre-licensing courses through a real estate school, a community college or a four-year college, you should make sure these courses are accredited by your state. Otherwise, you might now qualify to pursue a real estate license in your state.
The length of your prelicensing coursework varies from state to state. However, real estate pre-licensing education programs aren't known as long courses of study. The time it takes to complete these programs is usually measured in hours. Most real estate pre-licensing programs can be completed in as little as 3 to 8 weeks of study. You may also have the option to prepare for a new career in real estate through online courses that you can complete at your own pace.
A degree, on the other hand, would take years of your time and potentially a great deal of money. If you're wondering why so many real estate professionals opt not to pursue a college degree, the additional time and the more extensive tuition costs for earning a degree are among the major reasons.
Besides, not earning a degree right off the bat doesn't mean you will never pursue a college education. Before you get your real estate license may simply not be the right time for you to go to college.
The Real Estate Licensing Exam
Aside from completing your pre-licensing courses, the other major requirement to become a licensed real estate agent is passing your license exam. The real estate license exam is a state licensing exam that typically tests your knowledge of subjects like the following:
Property appraisal and description
Property taxes and assessments
Mortgages
Contracts and deeds
Closings
Leasing
Laws (fair housing, environmental, public land use and more)
Real estate math
It's not unusual for a state licensing exam to devote one part of the test to national content, such as real estate principles and practices, and another part of the test to state-specific laws and practices.
RELATED: Do I Have to Pass Any Exams to Become a Real Estate Agent?
To be fully prepared for your exam, you will want to start studying well in advance of the test. Peterson's, for example, recommends studying weekly by the time your exam date is six weeks away.
You can also enroll in additional exam prep courses as you get ready to take your real estate sales agent licensing examination.
Applying Continuing Education Credits Toward a College Degree
Since you don't need a college degree to begin to practice real estate, it might be better to go to school later in your career.
Most states have some form of continuing education requirement a licensed real estate agent must meet. You could meet this requirement by taking college-level courses in real estate education part-time. As you complete your continuing education requirements over the years, you may be able to apply the college credit you earn toward an associate degree, a bachelor's degree or even a master's degree.
Becoming a Broker
Did you know there's a difference between a real estate agent and a licensed broker? Only licensed brokers are authorized to manage their own brokerage firms, according to the BLS. A real estate agent must work for a licensed broker. Without getting licensed as a broker, real estate agents can't work for themselves or open their own brokerage firms.
If you want to attain your broker's license, you will need more experience working in the real estate industry beyond what's required for your initial real estate license. In most states, you must meet experience requirements that amount to between two and five years as a real estate salesperson, job search website Indeed reported. You may also need formal training in the form of a state-approved real estate broker course, as well as a passing score on the broker licensing exam.
Why You Might Want a Degree, Anyway
Do you need college for real estate industry careers? No. Should you consider earning a college degree to become a real estate agent anyway? Yes!
Although not mandatory, a degree in real estate can still offer a lot of benefits. In some instances, the real estate courses you take during college fulfill the pre-licensing course requirements that you would have needed to take anyway, the BLS reported. Having a bachelor's degree in real estate or some other related field can also offset the training requirements you must meet to acquire a broker's license. In other words, a college degree can help you get a real estate or broker's license.
College degree programs also provide a much more thorough education in the concepts, practices and skills needed to work in real estate successfully. Additionally, the fact that you put in the time, work and dedication to earn a degree could make you a more appealing candidate to real estate offices or brokers. If you want to be self-employed, a college degree will add to your credentials as clients choose whether to work with you or your competition.
Historically, real estate agents with a college degree have made a considerable amount – 30 percent – more than their peers without a formal education, according to the National Association of REALTORS. Realtors and real estate agents typically work on commission rather than earning set salaries. This earnings increase is widely considered to be due to educated, experienced agents having superior skills. These skills allow real estate professionals to work more efficiently, closing more deals in the same amount of work time.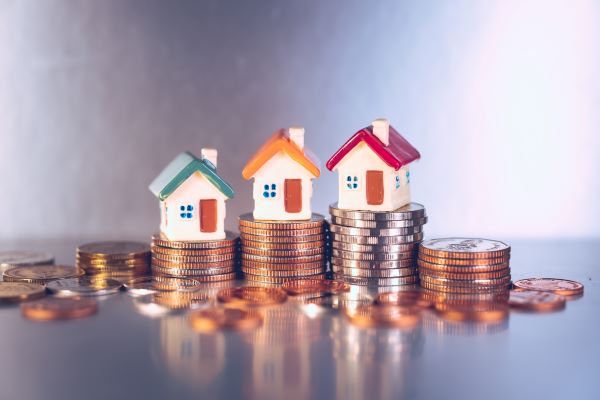 A bachelor's degree isn't among the three educational qualifications most common for real estate sales agents, but it is for real estate brokers, among whom 37 percent report having this degree.
Bachelor's degrees are increasingly preferred, the BLS reported, and more professionals in the real estate industry hold this degree.
How to Become a Real Estate Agent Without a Degree
Some form of education is needed to become a real estate agent. That real estate agent education doesn't have to be offered through a college or university, however.
If you want to practice real estate without spending two years or even four years pursuing a degree first, you're going to want to look for state-accredited pre-licensing courses that aren't embedded into a degree program.
Be mindful that you may not develop the same level of knowledge in these topics through a three- to eight-week program as a college student pursuing a full degree will. This may mean that you will have to devote more time and attention to studying for your licensure exam than your peers who go to college. However, you will save a great deal of time and money, getting into the workforce faster and without the burden of student debt.
You don't even need a college degree program to complete your required continuing education course hours. You could instead opt to complete your continuing education requirements through the professional development courses available through professional real estate associations.
The Best College Majors for Real Estate
Do you have to go to college for real estate? No. If you are going to attend college, though, you might as well pursue a program of study that pertains to your plan of becoming a real estate agent. Some of the best majors to consider for aspiring real estate agents include specialized real estate programs, business administration programs, communication programs and foreign language programs.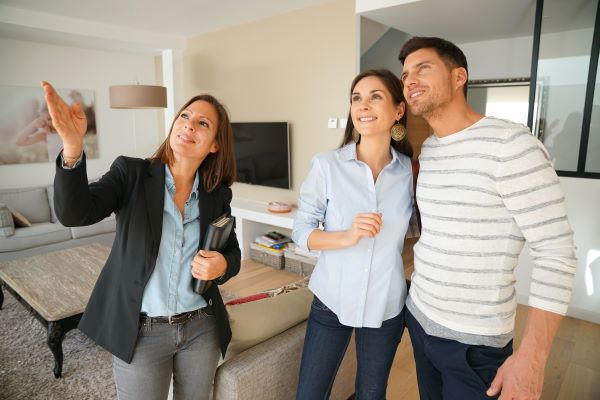 Real Estate as a Major
If you know you want to work in real estate, why not study real estate as your college major? This interdisciplinary program often encompasses pre-licensure coursework that meets state requirements. The curriculum usually includes coursework in business administration, finance and economics, along with your general education coursework.
Business Administration
It's not only the specialized real estate courses you take in college that are beneficial in this career path. There's a reason specialized real estate courses are typically offered out of college business schools or departments. The basic business courses that often have a place in a real estate curriculum are valuable when handling the financial aspects of the real estate business. Using your leadership skills allows you to guide clients and influence negotiations to reach deals.
If you want to develop these business capabilities but would prefer to keep your options open, a degree in business administration is a great option. You may even be able to pursue a real estate concentration within a versatile business administration program. Doing so would allow you to develop a breadth of business knowledge and some depth in the field of real estate – possibly while completing the real estate courses required for licensure.
Communication and Literature
Since you don't need any specific college degree to become a real estate agent, you might choose a major that allows you to cultivate strong communication skills. After all, work in real estate requires extensive communication. Real estate agents regularly communicate with:
Clients
Prospective buyers and sellers
Other agents and brokers
Home inspectors
Mortgage loan officers
Title companies
To build your communication skills, you might major in communication, writing, literature or English. Through these programs of study, you can become better at writing sales descriptions of homes and properties. Coursework in these subjects of study can help you think critically about problems you may encounter in your work as a real estate agent. Of course, through your studies and coursework, you can also improve your spoken and written communication skills as a whole.
Foreign Language Majors
Language barriers can hinder your success as a real estate agent. One way to sidestep this potential problem is by learning another language – especially one that is popular in the region in which you plan to work. Taking a considerable amount of foreign language courses can help you develop proficiency in your chosen language. By the time you graduate, you will be better equipped to overcome language barriers that arise in the course of your work.
You can also become a real estate agent with other academic backgrounds. Although not required, coursework in photography and graphic design can help you become skilled at taking property photos and creating flyers and other promotional materials. A background in the liberal arts, humanities or sciences may not seem particularly applicable to the field of real estate, but they do equip you with a base of knowledge and skills in thinking and learning that can prove valuable when pursuing licensure and undertaking the work of selling real estate.
Additional Resources
What Degree Should I Get for Real Estate?
What Degree Do I Need to Become a Property Manager?
What Degree Do I Need to Be a Mortgage Loan Officer?
Are There Bachelor's Degrees in Real Estate?