Given the major investment of time, money and energy needed to earn a degree in hotel management, you may wonder if you can skip college and still end up in leadership roles in this field. Although not impossible, pursuing a hotel management role without training in hospitality management isn't easy. It will require you to start at the bottom of the hierarchy of hotel jobs, which pay the least, and to gradually work to advance through the ranks until you reach the management-level roles you're seeking.
Entry-Level Hotel Jobs
If you decide to work toward hotel management the old-fashioned way, without a college degree, you'll start in entry-level roles that typically have no educational requirement or require only a high school diploma. Some possible positions in the hotel industry include front desk clerks, housekeeping staff and bellhops.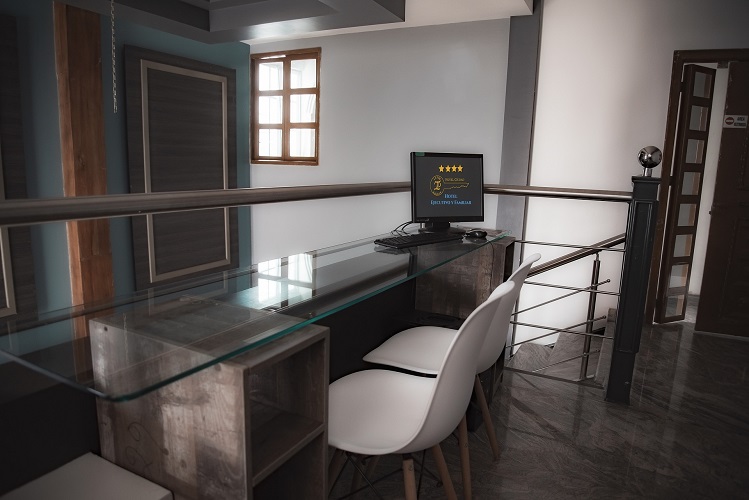 IMAGE SOURCE: Pixabay, public domain
For hotel desk clerks, the United States Bureau of Labor Statistics (BLS) reported an average wage of $12.08 hourly, or $25,130  annually. The average wage for maids and housekeepers is $12.30 per hour, or $25,570 per year, according to the BLS. Bellhops earn a mean wage of $12.98, or $26,990 annually, the BLS reported. The earning potential for each of these roles is well below the median salary the BLS reported for all occupations, $38,640.
Although these roles are important to a hotel's day-to-day operations, they're a long way from hospitality management positions. None of these roles confer a great deal of responsibility on the worker. Desk clerks typically handle booking reservations and confirmations, check guests in as they arrive and distribute their room keys or key cards. Housekeepers are generally responsible for light cleaning duties. Bellhops and baggage porters take luggage to guests' rooms for them. Working in these roles, however, exposes employees to the environment and unique challenges of work in the hotel industry and allows them to begin making connections with established hotel workers, including their supervisors.
Hotel staff in these roles often depend on gratuities – but not every guest tips every one of these service workers. In fact, fewer than one-third of hotel guests leave any kind of gratuity for their housekeepers, according to The New York Times.
Working Your Way Up From Entry Level
Of course, with your ambition to ultimately work in hotel management, you don't want to stay in these low-wage jobs for longer than necessary. By showing your supervisors that you have initiative and are willing to work hard, you can start to move up in the hierarchy of hotel jobs.
Wages are somewhat better for concierges, who have a greater role in guest satisfaction. Concierges are there to help guests – whether that means suggesting a nearby restaurant or activity to try, coordinating reservations or transportation or fielding requests for help with personal or business services. The BLS reports an average wage of $16.13 per hour, or $33,550 per year. Even among concierges, 20 percent have some college education but not a degree, and 17 percent have an associate's degree.
If you're not opposed to working the night shift, a job like night auditor may also be a step in the right direction. In charge of the front desk overnight, when fewer guests are arriving, night auditors perform financial duties as well as clerical and customer service duties, The Houston Chronicle reported. These responsibilities include accounting and auditing tasks and reconciling all transactions conducted over the course of the day. Although this job allows you to take on more responsibilities related to hospitality management, it's more of a lateral move in a financial sense, with job search website Glassdoor reporting an average salary of $27,011.
Once you work your way up to the lowest assistant manager and first-line supervisor roles within a hotel, you see a real pay increase, as well as an increase in your management responsibilities. Housekeeping supervisors make a median wage of $20.75 per hour, or $43,150 per year, the BLS reported. For assistant hotel managers, Glassdoor reported an average salary of $35,786.
Full-fledged lodging managers primarily handle operations and administrative tasks rather than direct service and first-line supervisory job duties. For positions like front-office manager, convention service manager, revenue manager and general manager, the BLS reported a median annual salary of $53,390. The higher your level of job seniority and the more profitable your hotel is, the more money you stand to make. The highest-paid 10 percent of lodging managers earn more than $102,410 per year. In these roles, you finally have the opportunity to focus on running the hotel's operations and contributing to its plans for growth – whether for the hotel or hotel chain as a whole or for one department within the hotel.
Another option to break into hotel management is to open and run your own hotel. More than one-quarter of all lodging managers are self-employed, according to the BLS.
How Important Is a Degree to Working in Hotel Management?
Can you get a job in hotel management without a degree? It's certainly possible, although the BLS noted that it takes several years of experience for a hotel worker without management training to move into even an assistant manager position. Because these lower-level hotel employee roles tend not to pay well, you're not only spending more time working up to the career you want but also earning less than you could make.
Hospitality management salaries are considerably higher than non-management roles in hotels. With less than one year of work experience, the median wage is $37,688, rising to $39,752 for workers with one to four years of experience. Among hotel managers with five to nine years of work experience, the median wage is $48,000. The subset of workers with 10 to 19 years of experience in the field makes a median salary of $57,995, more than the overall median wage for the occupation. Stick with a hospitality management role for 20 years, and the median wage climbs to $75,778.
The job outlook for lodging managers is somewhat bleak, with the BLS expecting opportunities to increase by just one percent – only 600 new jobs – over a decade. Having a bachelor's degree will help candidates fare better in their search in this competitive job market, the BLS reported. As it is, 72 percent of lodging managers report having a bachelor's degree. Candidates who choose not to get a formal education should know that the majority of the competition for the jobs they want will have the degree they lack.
Degrees in hotel management are particularly relevant to this career path, but they aren't your only option. Many hotel managers choose the broader, and more common, degree program of hospitality management.
Related Resources: 
Is It More Worthwhile to Get a Job in the Hospitality Industry or Get a Degree?
What Is a Typical First Job for Someone With a Degree in Hospitality Management?
How Important Is Hands-On Experience in a Hospitality Degree Program?
For Further Reading: