In a society obsessed with stopping or slowing the aging process, it can be hard to remember and appreciate that aging is a normal privilege of life. Wrinkles and gray hair, assisted living communities and grandchildren, sickness and wellness, each will play an integral role in our lives and the lives of those we love as the years continue to go by.
What Is Gerontology?
Gerontology is a field that encompasses an enormous amount of knowledge, as it takes a detailed look at the effects of aging across the human experience. Gerontologists are men and women who appreciate the truths about aging and recognize it as a multi-dimensional process, affecting one cognitively, physically, emotionally, socially, and psychologically. There is not a part of a life that is untouched by the aging process and the subject of gerontology takes a deep dive into every aspect of change that occurs. Professionals in the field of gerontology both study the different aspects of aging and develop healthy ways to treat the changes that one will encounter as they grow older.
 How Do I Become a Gerontologist?
Initially, the paths to a career in gerontology are often similar. Many students select one of several different bachelor's degrees: psychology, sociology, nutrition, nursing, or social work are excellent options. If you are certain that gerontology is where you want to land, some degree programs offer a degree specific to gerontology. Undergraduate degrees are often enough for entry-level jobs in care facilities or research. However, students who continue on to pursue a master's level degree in gerontology (or an associated field like social work or healthcare administration) will find much greater career opportunities and income earning potential.
What Does a Gerontologist Actually Do?
Gerontologists typically choose one of a few different paths: research gerontology, applied gerontology, social gerontology, or administrative gerontology.
Research Gerontology: The ultimate goal of research gerontology is to improve the quality of life for older adults. Research gerontology is often focused on a better understanding of the changes associated with aging, seeking to answer questions like "Why does one individual get more gray hair than another?" or "Are there ways to slow the progression of Alzheimer's?" through scientific study of biological processes. Researchers may also perform multidisciplinary investigations into the effect of aging on society, in areas like economics, health, and art. Lastly, research gerontologists are also involved in applying their knowledge to society; their research is integral to changing existing programs and policies.
Applied Gerontology: Applied gerontologists work directly with elderly individuals. These careers often involve dealing specifically with the treatment of the physiological and biological processes of aging; applied gerontology work has clear overlap with geriatric work. These careers are involved with the day-to-day care of the elderly, like nursing care, physician care, occupational therapy care, or simple transportation, meal assistance or companionship. Gerontologists with a psychiatric, psychological, or social work background may be involved in counseling or therapy related to emotional or mental disorders. Those who work in applied gerontology fields will often find themselves (and their workflows) directly affected by the result of gerontology research and the decisions made by administrative gerontologists.
Social Gerontology: Elderly advocacy is also a very important part of the gerontology field. Social gerontologists work to reframe society's way of thinking about the elderly, as well as assisting the elderly in navigating some of the challenges they face as a result of some of the current social norms (like the healthcare system, education, volunteerism, housing, etc.).
 Administrative Gerontology: Administrative gerontologists are responsible for the programs and leadership related to applied gerontology. Most administrative gerontologists are "health service managers," directly involved in running elderly homes, assisted living centers, and adult day-care centers. These persons must be capable of managing personnel, cooperation among individuals, and adherence to and development of policy and procedure.
It is important to note that there is a lot of crossover among the different gerontology focuses (and careers in geriatrics). Each system is often affected by what is happening in the others. It would not be surprising for a care professional in an elderly living home to find himself or herself intricately involved in some aspect of administrative, social and applied gerontology all at once.
Gerontology Jobs and Careers
The following are some specific gerontology and/or geriatric careers one could pursue. Careers in both fields are included, because of the significant overlap noted between the two. Please note that each of these would have different educational requirements and prerequisites for hire.
Registered Nurse
Geriatric Social Worker
Geriatric Psychiatrist
Geriatric Case Manager
Senior Service Coordinator
Nursing Home Administrator
Postdoctoral Scholar ResearchAssociate
Resident Services Director
Home Health Nurse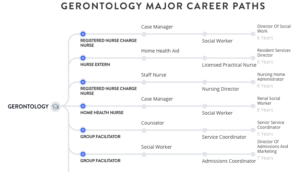 Fastest Growing Careers in Gerontology
The study of aging and its effect on the population is nothing new. As we continue to live longer healthier lives, careers in this field will continue to grow. Here is a list of the five fastest growing gerontology careers, as per Master's in Public Health.
Eldercare Specialist: You may also hear this person referred to as a certified nursing assistant (CNA). You do NOT need a bachelor's degree for this career.
Social Gerontologist: These persons are involved in elder advocacy, as discussed above.
Geriatrics Healthcare Specialist: This is a broad group of careers that includes both elder focused physicians and nurses.
Elder Law Practitioner: These practitioners are involved in the challenges that the elderly face related to the workplace, including appropriate accommodations, Medicare and insurance, and financial planning.
Assisted Living Director: These personnel are involved with managing people, making financial decisions, and Federal compliance issues and adherence.
Gerontology Salaries
There is a large range of job choices and academic choices for those who are in pursuit of a gerontology-focused career. Because of this wide spectrum of options, there is also a wide spectrum of salaries. Salaries are largely dependent on where one works and their experience level/academic background. The following is a list of 2018 median pay for some of the specific careers discussed in this article, as per the Bureau of Labor Statistics.
Registered Nurse: $71,730
CNA: $28,530
Social Worker: $49,470
Assisted Living Director: $99,730
Case Manager: $65,320
The desire to work with the elderly population is a commendable choice. It is a population often overlooked, but with much wisdom and life to offer each of us. If this is a community you are passionate about, there are a variety of avenues that can offer you the chance to spend your time with them in meaningful and fulfilling ways.
Laura Mansfield
Master's of Science in Nursing (MSN) | Sacred Heart University
Associate's Degree of Nursing (ADN) | North Seattle Community College
Bachelor of Business Administration (B.B.A.), Marketing, Sales | University of Washington (Seattle)
October 2019
More Articles of Interest: