There is a surprising degree of variance among master's degree programs in math education. Although the title of the degree program may not change, this graduate degree may or may not fulfill requirements for your initial teaching certification. It may allow you to choose a concentration in elementary or secondary school math education. Graduate-level math education programs also come in different degree forms, including a Master of Education (M.Ed.), Master of Arts (M.A.) and Master of Science (M.S.) option. Some colleges and universities offer just one program in master's-level math education, while others host different programs, each intended for students with a different set of interests pertaining to coursework and career and educational paths.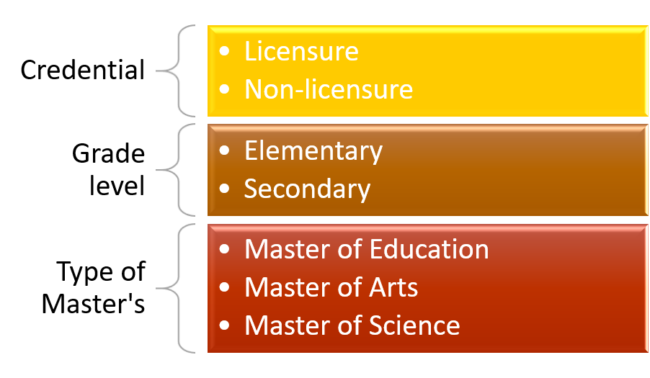 Licensure and Non-Licensure Degree Programs
The distinction that makes the biggest difference in the curriculum of your master's degree program in math education is whether it is a licensure or non-licensure program. In every state in the U.S., teachers are required to hold some form of state license or certification. Although a bachelor's degree in a teaching program is the most typical form of preparation for a teaching career, each state also offers some sort of process for acquiring alternative route teaching certification, according to the Bureau of Labor Statistics (BLS). Often, the coursework needed to meet alternative route teaching certification requirements, offered at the post-baccalaureate level, culminates in a master's degree.
A licensure master's degree in math education is meant for aspiring educators who don't yet have a teaching certification. Career changers often choose this path as a means to become a fully qualified teacher. There are a couple of big differences in the curricula of licensure and non-licensure programs. Non-licensure programs build on the basic undergraduate coursework certified teachers already know to expand their skills, but to most students in a licensure math education program, studies in teaching and learning are all new. There isn't any framework of professional teaching knowledge to build upon. These graduate students are starting from scratch as they work toward developing the fundamental proficiencies in managing a classroom, understanding the learning process and teaching strategies and becoming familiar with lesson plans and learning assessments.
One particularly intensive aspect of licensure programs not found in non-licensure programs is the student-teaching experience. This semester-long full-time fieldwork experience is mandatory to attain your initial teaching license, which makes it mandatory for licensure master's of math education programs, too. Working teachers in a non-licensure degree program have already met this requirement during their undergraduate education.
Licensure master's in math education programs often take longer than non-licensure programs. While some non-licensure programs can be completed in as little as six months, many licensure programs take over two years to finish.
Elementary and Secondary Math Education Degrees
The grade level you teach at will have a huge impact on what your job duties as a math teacher are like and what material you need to know to achieve them. Recognizing this reality, many colleges and universities offer concentrations within their math education master's degree program in either elementary or secondary education. Usually, there is some overlap between programs in elementary math education and secondary math education. Both programs cover core coursework in the theory and practice of teaching and learning, research in math education and math content areas. However, students of secondary math education programs are more likely to focus on the teaching of more advanced course material in subjects such as geometry, algebra, pre-calculus and discrete mathematics for a high school student classroom. Aspiring teachers of elementary school math take many of the same subjects but in courses focused on the needs of teachers of lower grade levels. They may also take more courses in teaching math fundamentals, such as patterns, basic mathematical functions and number theory.
If you want to teach at the middle school level, you may be able to choose either an elementary education or secondary education program, but you should check your state's requirements. A few colleges offer separate middle school math education programs.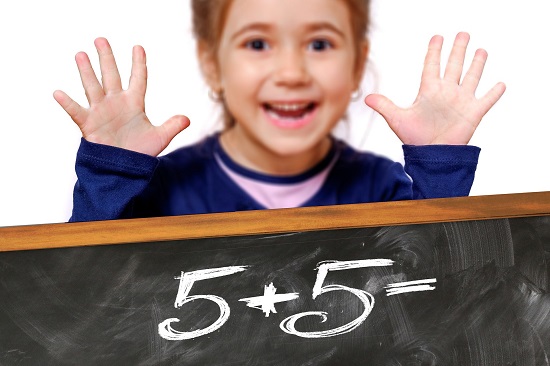 IMAGE SOURCE: Pixabay, public domain
Master of Education, Master of Arts and Master of Science Degrees
In the field of teaching math, an employer generally isn't looking specifically for an M.Ed. as opposed to an M.A. or an M.S. A program that aligns with licensure requirements does so regardless of which type of master's degree it is. An M.Ed., M.A. and M.S. all count as master's degrees for the purposes of salary increases among educators.
However, there are some differences between these different programs. Generally, a Master of Education program emphasizes the education side of the discipline, while a Master of Science degree puts more focus on the mathematics content of the curriculum. Master of Arts programs are liberal arts degree programs that may integrate more interdisciplinary work and often focus more on teaching concepts and practices than on learning theory or mathematics content.
There's no hard and fast rule about how many credits are required for which kind of degree, but generally, the Master of Arts degree is likely to be shorter than Master of Education and Master of Science programs at schools that offer multiple degree types.
Related Resources
Are There Specific Master's Programs for Different Math Subjects?
Is There a Separate Math Master's Program for Elementary and Secondary Education?
What Degree Should a Math Teacher Have?
What Classes Will I Have to Take for a Degree in Mathematics Education?