Students often go to graduate school to advance into higher-level job roles. In the field of journalism, these aspirations often mean upper management positions at a newspaper or a magazine. Earning your master's in journalism degree can help you reach these senior-level management roles not only through your graduate-level coursework but also through the hands-on skills you develop and the opportunities they offer to gain professional experience.
What Editors in Upper Management Roles Do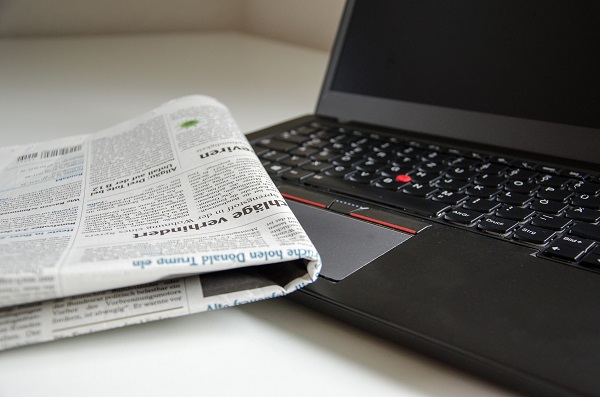 IMAGE SOURCE: Pixabay, public domain
Upper management roles in newspapers and magazines are often editorial roles. Some of the job titles you will commonly encounter in newspaper and magazine management include managing editor, executive editor and editor-in-chief.
Generally, editor-in-chief or executive editor is the most senior-level editorial role in a publication. The person in this role serves as the chief executive of the newspaper or magazine and handles big-picture responsibilities such as guiding the overall editorial direction of the publication and handling matters of strategic planning and budgeting, according to The Houston Chronicle.
In contrast, managing editors are more concerned with the details and logistics of getting the newspaper or magazine to publication. A managing editor's job duties may include identifying story ideas, assigning stories to staff and freelance reporters and coordinating writing and editing work so that the story is ready for publication on schedule.
Managing editors may also oversee editorial assistants, associate editors and department editors.
Preparing for Upper Management Roles in Newspapers and Magazines
If you want to work as an editor-in-chief, executive editor or managing editor, a master's in journalism is a good place to start. Another option, especially if you're eyeing an executive editor role, is to pursue an MBA in media management. However, since good journalism is about more than just a financial bottom line – about, for example, ethics and integrity in investigative storytelling – it's important that aspiring leaders of newspapers and magazines understand the laws, ethics and practices of honest, reliable journalism just as much as they understand matters of strategic business planning and financial planning.
While MBAs have a place in the management of enterprises that include news publications, having a background and graduate education that embraces the principles of journalism more thoroughly may be an asset for some newspapers and magazines. A master's degree in journalism prepares you to perform the full scope of work involved in reporting and editing a news story.
Throughout your graduate studies, you will develop skills in finding news story ideas, cultivating a network of sources, undertaking investigative research, conducting interviews, fact-checking information and composing and editing articles. Master's in journalism classes often involve workshops in which students critique each others' work to improve and polish stories for maximum accuracy, writing quality and rhetorical effect. Often, graduate journalism students take classes in different types of journalistic content creation, including news reporting, investigative reporting, feature writing, long-form narrative writing and audio and multimedia storytelling.
You don't necessarily need a master's degree to become an editor. O*NET reported that a bachelor's degree is the most common education for this career path, accounting for 80 percent of the profession. However, 17 percent of editors report having a master's degree.  
Editor Job Requirements Beyond the Master's Degree
Education alone won't land you the upper management job you're seeking. Before you can work in high-level newspaper and magazine roles like managing editor, executive editor and editor-in-chief, you usually need some journalism experience. Experience working in a position like reporter, writer or editorial assistant can put you on the path to a management role as editor, according to the United States Bureau of Labor Statistics (BLS). While the BLS reported that you can become an editor with less than five years of experience, reaching upper management editorial roles can take longer.
If you're already working in the journalism industry, your graduate education may be the last missing piece to complete your qualifications for upper management positions. However, if you're using your master's degree to make a career change, a graduate-level internship opportunity – especially one with a major newspaper, magazine, or broadcast news channel – can help you begin acquiring the experience needed for management work.
Education and experience matter for upper management roles in journalism, but the skills you bring to a newsroom are even more important. The classes you take in a master's in journalism program help you develop editing skills as well as writing and reporting skills.
Additional Resources
What Kind of Careers, Other Than a Writer, Can I Look for With a Master's in Journalism?
Where Can I Work with a Journalism Degree?