Information systems security, more commonly referred to as INFOSEC, refers to the processes and methodologies involved with keeping information confidential, available, and assuring its integrity. It does not just deal with computer information, but also protecting data and information in all of its forms, such as telephone conversations.
Information systems security professionals work with computers and security programs as well as various hardware to ensure that a company's important information is secure. Systems security professionals test, implement, maintain and repair software and hardware used to protect information. Security managers in the field direct teams of security professionals and may also coordinate system-wide initiatives to increase security.
Information systems security college programs provide graduates with the knowledge and skills they need to excel in the workforce. Ideal for detail-oriented individuals with a knack for problem-solving, the field of network security offers graduates a variety of careers. The following are some of the professions.
Information Security Analyst
These specialists design and implement plans that protect companies and organizations from hackers. The changing nature and frequency of cyber-attacks have given the occupation one of the highest job growth rates in the country, and the demand for experts in the field has increased exponentially. Many information security analysts also acquire a handful of certifications that attest to their aptitude and expertise in a certain area of information security, such as network administration or software development.
Median Pay: $95,510
Projected Growth: 28%
Computer and Information Systems Manager
Computer and information systems managers, also called information technology (IT) managers or IT project managers, plan, coordinate, and direct computer-related activities in an organization. They help determine the information technology goals of an organization and are responsible for implementing computer systems to meet those goals.
Median Pay: $139,220
Projected Growth: 12%
Network and Computer Systems Administrator
This person is responsible for the upkeep, configuration, and reliable operation of computer systems. The job requires a specialist in computer and network security, including the administration of security devices such as firewalls, as well as consulting on general security measures. This person may also maintain the network infrastructure such as switches and routers and diagnose problems with these or with the behavior of network-attached computers.
Median Salary: $81,100
Projected Growth: 6%
Computer Systems Analyst
The analyst combines aspects of business and information technology in the assessment of an organization's computer infrastructure. She/he determines the most beneficial and secure hardware and software upgrades. The individual works closely with IT managers to determine what system upgrades are financially feasible and what technologies are available that could increase the company's efficiency. A computer systems analyst may also design and develop new systems.
Median Salary: $88,270
Projected Growth: 9%
Database Administrator
Database administrators (DBAs) use specialized software to store and organize data, such as financial information and customer shipping records. They make sure that data are available to users and secure from unauthorized access. Generally speaking, DBAs protect existing databases by backing them up and developing airtight internal security measures. They also monitor databases to ensure their ease of use, while planning and implementing expansions as needed. They often work in tandem with network systems and data communication analysts.
Median Salary: $87,020
Projected Growth: 11%
Information Security Specialist
These specialists are in charge of developing and implementing security measures for their organization. They are responsible for analyzing existing security procedures and suggesting changes to upper management for increasingly efficient and extra security. They may present their findings to managers and recommend new technologies or policy modifications. They also research security measures and concerns to develop effective strategies to mitigate security risks. Other duties may extend to minimizing security threats by examining infrastructure and devices, identifying security flaws, and using control analysis to determine a prompt solution.
Median Salary and Projected Growth: Same as Information security Analyst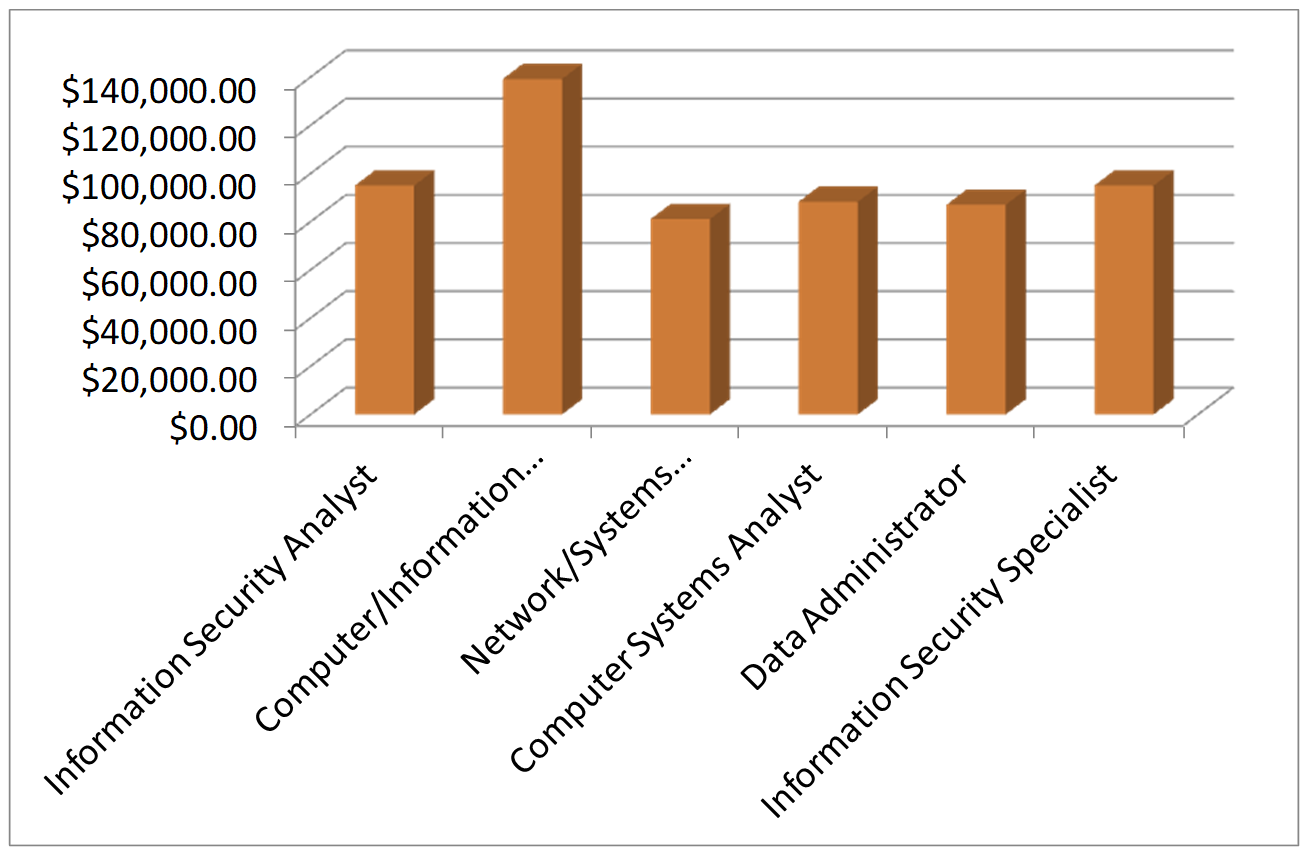 Conclusion
All of the above occupations refer to cyber. Cyber is a prefix used in a growing number of terms to describe new things made possible by the universality of computers. These professions sit under the umbrella of cyber security or its twin-cybersecurity. Therefore, your degree in information systems security places you in a burgeoning sector. A Cybersecurity Ventures report predicted a shortfall of 3.5 million cyber security professionals by 2021.
Sixty-eight percent of organizations report a high demand for cybersecurity skills
These statistics confirm the booming job market now and into the future for all occupations associated with information systems security. All salary and growth data obtained from the U.S. Bureau of Labor Statistics.
Additional Resources
What Occupations are there with a Degree in Information Systems Security?
What should you know when you interview for a Job with a Degree in Information Security?
How can I use my Cybersecurity or Network Security Degree in Finance?
What are the Benefits of a Degree in Network Security?
What should you know about Work with a Degree in Information Security?