What is Cybersecurity?
Cybersecurity is the practice of protecting systems, networks, and programs from digital attacks. Attacks aimed at accessing, changing, or destroying sensitive information; extorting money from users; or interrupting normal business processes. A successful cybersecurity approach has multiple layers of protection spread across the computers, networks, programs, or data that one intends to keep safe. In an organization, the people, processes, and technology must all complement one another to create an effective defense against cyber attacks.
Therefore, it is a process designed by humans to prevent an array of security attacks. Attacks come in the form of ransomware, malware, phishing, and social engineering. It affects private and public corporations, and federal agencies, as well as the military.
Technology is essential to giving organizations and individuals the computer security tools needed to protect themselves from cyber attacks. Three main entities require protection: endpoint devices like computers, smart devices, and routers; networks; and the cloud.
What is Intelligence Analysis?
Intelligence Analysis is the process of taking known information about situations and entities of strategic, operational, or tactical importance, characterizing the known, and, with appropriate statements of probability, the future actions in those situations and by those entities. In performing these tasks, they must consider the quality of information; the meaning of observed, reported, or assessed developments; and sources for additional information. The quality of each judgment is a function of the evidence, assumptions, analytic methods, and other aspects.
The attacks of 9/11 forced the Department of Defense to become more proficient in intelligence analysis. New technologies developed to help combat terrorism and fight two insurgencies, the way military intelligence analysts conducted analysis also developed. The evolution of the military intelligence analyst grew from tracking tanks and enemy movement on a sand table to combining intelligence from the nation's most sensitive technical collection platforms with information collected on the ground.
Education-Cyber Security
Cyber security can be as simple as downloading an anti-malware program on your personal computer. The purpose is to prevent hackers from accessing your personal information, such as bank account information or credit card numbers. It can also occur on a larger scale. For example, hackers breached Target Stores in 2013 compromising the information on up to 110 million credit cards.
Your college education teaches you how to thwart these attacks. This education comes in a variety of degree terms, depending on the college/university. At the bachelor's level, the names could be Information Technology, Information Systems, Cybersecurity, Networking & Security, Cyber Operations, Cybersecurity and Information Assurance, and more. Any of these degrees can start you on a career path in this field.
A degree at any level in this field will require computer skills. Some programs place a greater emphasis on the technology aspect. For example, courses in Java, networks, systems architecture, computer forensics, and programming. These are in addition to topics including threat reduction, vulnerability reduction, deterrence, international engagement, incident response, resiliency, and recovery policies.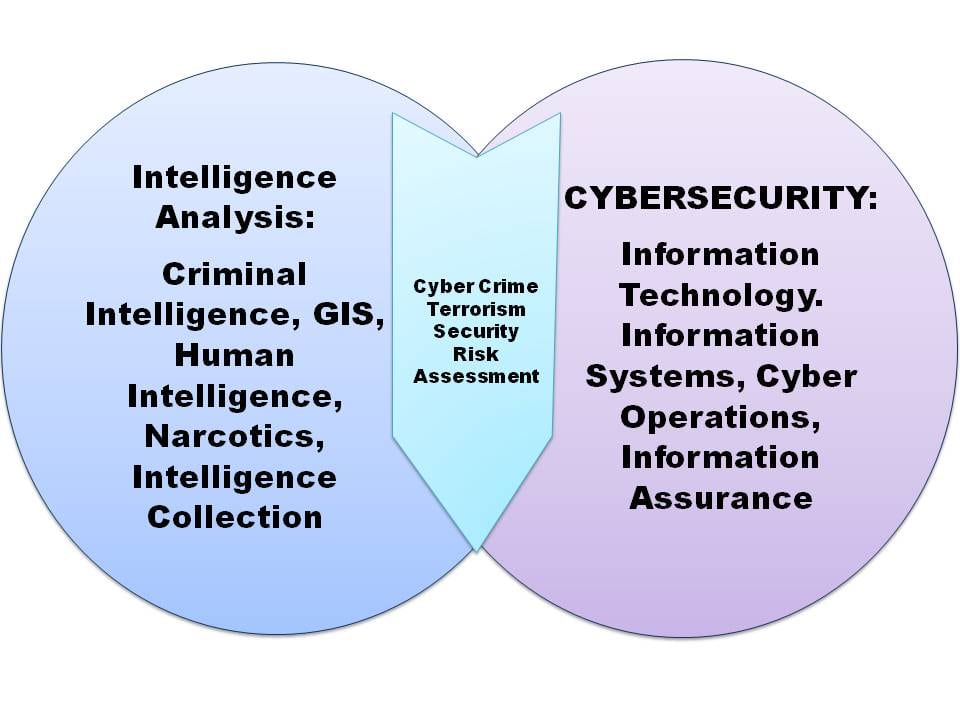 Education-Intelligence Analysis
The work of an intelligence analyst is to gather, research, analyze, and evaluate information – sometimes information that is crucial to homeland security or the safety of military troops and civilians. There are different degree choices that lead to a career as an intelligence analyst.
A bachelor's degree in criminal justice is one option. This degree with a concentration in Crime and Intelligence Analysis can provide you with a comprehensive learning experience. You become versed in homeland security, intelligence, and digital forensics. Particularly, with a program that incorporates intelligence theory and investigative philosophy with collaborative decision-making processes for crime analysis and intelligence scenarios. Simulated exercises, case studies, and lab-based exercises are other possible additions to a program.
Another option is a major in intelligence analysis. Some programs offer the choice of concentrations in counter-intelligence, criminal intelligence, intelligence operations, and intelligence collection. Each specialty examines specific subjects with respect to the concentration. Much of the curriculum for each concentration has overlapping courses. Examples involve courses in tactical, foreign, signal, and geospatial intelligence. In addition, you may study the subjects of cybercrime, terrorism, human intelligence, threats, and risk assessment, criminal profiling, and narcotics.
Which one is best for Employment?
The cybersecurity unemployment rate was zero in 2016.
The current (2017) number of U.S. cybersecurity job openings is up from 209,000 in 2015.
In 2017, the U.S. employed nearly 780,000 people in cybersecurity positions, with approximately 350,000 current cybersecurity openings, according to CyberSeek. These figures are from a project supported by the National Initiative for Cybersecurity Education (NICE), a program of the National Institute of Standards and Technology (NIST) in the U.S. Department of Commerce.
The job growth in intelligence analysis is not as impressive as cybersecurity. According to Recruiter, the demand for Intelligence Analysts should create 20,300 new jobs in 2018. This represents an annual increase of only 2.29 percent over the next few years.
However, individuals who want to work in the intelligence field can do so with select cybersecurity degrees. Some of these include the combination of cybersecurity and threat/intelligence analysis. Furthermore, jobs in intelligence analysis can be difficult to find at the entry-level. The cybersecurity degree route may afford more career opportunities.