Psychology is one of the most popular majors. The most recent data from the school year of 2012-2013, posted by the American Psychological Association (APA-shared content), reported that almost 2 million students received a bachelor's degree. This makes  psychology, according to the National Center for Education Statistics, the fourth most popular degree. Many former psychology majors—about 45 percent of them end up pursuing a graduate degree.
However, those with altruistic motives to help others through counseling, for example, can find a career in this field. Although a master's is highly beneficial, you can use your undergraduate degree along with internships and certifications to work in this profession.
Bachelor's Degree
At this level, there are two programs offered in Psychology- the Bachelor of Arts and the Bachelor of Science degree. The Arts and Science curriculum usually differs according to the number of classes in your major.  In most cases, the B.A. degree will have fewer courses in your major, in addition to a choice of courses in fields unrelated to the major.
A Bachelor of Science (B.S.) degree will have courses in math and science, as well as a heavier load of courses devoted to your major. In addition, there are a proportionately smaller number of courses outside the major. This degree facilitates progression to a master's in psychology or relevant field. The programs usually provide specializations in courses, such as neuroscience, clinical psychology, cognition, and behavioral therapy.
Most individuals employed in I/O psychology have a Master's degree. This graduate degree has become increasingly common over the past twenty-five years. A Master of Arts (M.A.) or Master of Science (M.S.) program may require a thesis. Completion of your master's may provide the incentive to pursue a doctorate in I/O psychology. If not, your master's should create numerous job opportunities, especially in the private business sector.
According to the U.S. Bureau of Labor Statistics' current Occupational Outlook Handbook, the median national annual salary for industrial-organizational psychologists is $82,760. The projected job growth of I/O psychologists is 14 percent over the next ten years. Therefore, to increase your earning potential, a master's degree is advantageous.
Clinical Psychology
This popular area of psychology involves clinical and counseling services for mental, emotional, behavioral disorders. Clinicians provide these services in a variety of settings. The list includes:
Elementary and Secondary Schools
Offices of Health Practitioners
Individual and Family Services
Outpatient Care Centers
General Medical Facilities
Psychiatric and Substance Abuse Clinics/Hospitals
Local Government (excluding schools)
All of these job opportunities are available to graduates with a Master's degree. In order to practice in the above professions, you have to obtain a license within your state of work. In addition, to work in the field of clinical psychology, you will require a graduate degree. This means a Master's degree in some form of clinical psychology.
The U.S. Bureau of Labor Statistics reported the annual average salary for the occupation category of Clinical, Counseling, and School Psychologists was $81,330 as of May of 2017. Elementary and secondary schools employ the greatest number (43,570), followed by Offices of other Health Practitioners. The latter group has the highest salary, per the BLS, at $92,130.
The master's degree will offer more job prospects. Another lucrative profession is an engineering psychologist. Verywellmind reports this specialty of psychology as the fourth highest paying job with an average salary of $79,818. These psychologists work to improve the design of systems, operations, and equipment in order to increase efficiency, boost productivity, and minimize injury. Entry-level positions require at least a master's degree.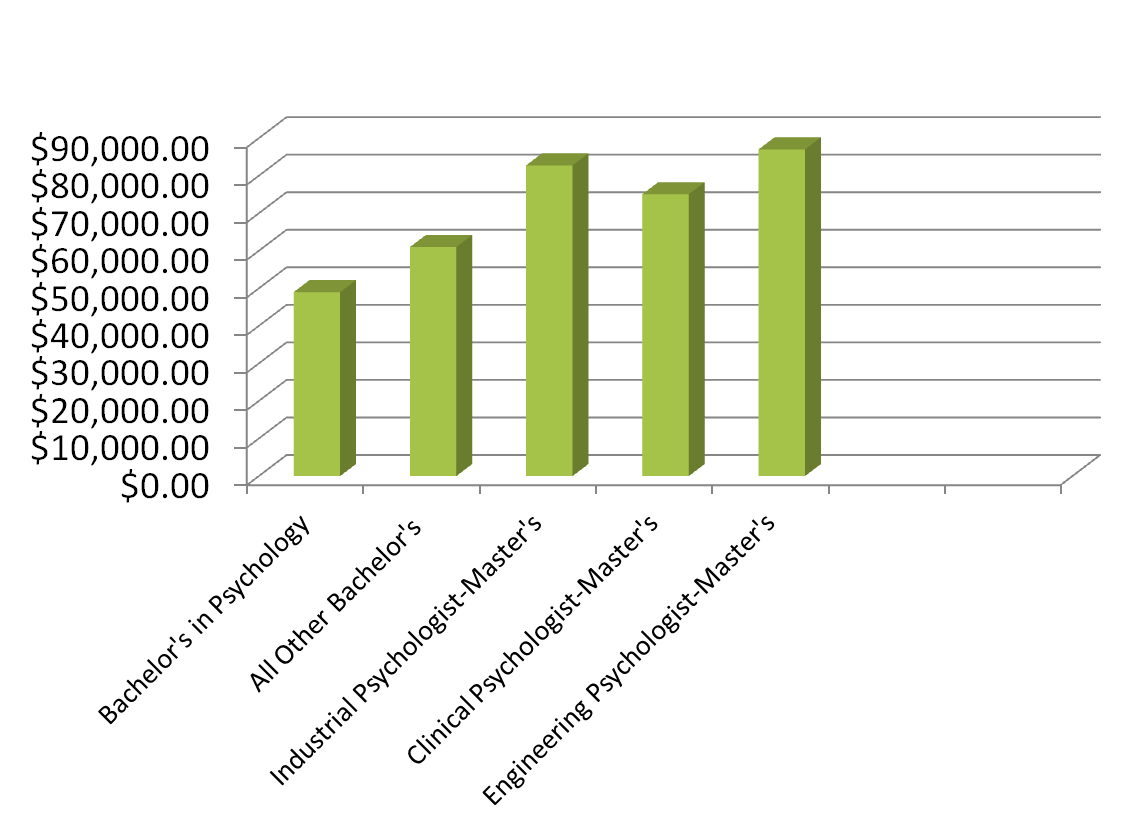 Psychology majors with graduate degrees earn 33% more, on average, compared with psychology majors with only a bachelor's degree, according to the Georgetown University Center on Education and the Workforce analysis.
If you want to use your psychology degree in this field, then a master's is more beneficial. Your bachelor's degree in psychology may not be sufficient to work in a job associated with your degree. In fact, less than 30% end up applying their undergraduate psychology degree in this discipline.
Additional Resources:
What is the Benefit of a Ph.D. in Psychology vs. a Psy.D?
What are the differences in an Online vs Campus Master's Degree in Psychology?
What Are the Different Kinds of Psychology Degrees?
What is a degree in Psychology?
How fast can I complete my Bachelor's Degree in Psychology Online?
What Government Jobs are there with a Degree in Psychology?