What is Forensic Anthropology?
Forensic anthropology is a specialty of physical anthropology (the study of human remains). These scientists assist in the identification of deceased people whose bodies are badly burned, decomposed,  mutilated, or otherwise difficult to identify. Their examination of the physical characteristics of an individual, such as skeletal abnormalities can help determine cause of death and/or past trauma.
What is Forensic Pathology?
Forensic Pathology is the part of forensic medicine. The science determines through external and internal examination, as well as microscopic examination of the tissues of the organs of the body, how diseases and injuries affected the deceased. This is generally accomplished during an autopsy. This means that a specialist in forensic pathology examines not only victims and suspects of crime, but also suicides and accidental fatalities. Often, the pathologist might be requisitioned by law enforcement or a member of the justice systems to perform an examination/autopsy as part of a criminal investigation.
Education
We will look at the degree path for both professions and suggest the benefits.
To become a forensic anthropologist you can start with a Bachelor of Science in Forensic Science with a concentration in Forensic Anthropology. Actually, you could start your education in high school by taking classes in chemistry, biology, physics, calculus, and mathematics. Outside of school, you should focus your interests on computer science and photography. Both will be a benefit later in a career in this field.
The degree noted in the previous paragraph will expose you to courses in chemistry, biology, skeletal analysis, physics, criminal justice, and anatomy. Upon completion of this degree, you may be eligible to pursue a career as a crime lab technician, autopsy technician, crime scene investigator, or latent print examiner. However, this degree will not qualify you for forensic anthropology. You will need a master's degree.
A Master of Science in Forensic Anthropology is essential. To emphasize its relationship to forensic pathology, some schools have their forensic anthropology program within the School of Medicine. At the graduate level, students will receive extensive training in osteology (the study of the structure and function of the skeleton and bony structures), taphonomy (the study of decay), human anatomy, forensic anthropology field methods, forensic anthropological techniques and procedures, biological anthropology theory, mortuary archaeology, methods of human identification, and crime scene investigation .
One of the benefits of forensic pathology is that you have more latitude at the undergraduate level. You can choose from a list of physical sciences and forensic sciences. Be prepared, as with forensic anthropology, for an immersion in lab work throughout the bachelor's program.
The most compelling benefit of forensic anthropology is that your bachelor's to master's transition takes you closer to a career. The disadvantage of forensic pathology is that your completion of a bachelor's degree is just the first step. Forensic pathology is a branch of medicine. Consequently, it requires an M.D. before you can practice in the field of pathology. This means your education could last thirteen years after high school.
Upon graduating from medical school, the next step is to take the licensing examination. You have to be licensed to practice medicine in the United States. Once you have earned your medical license, you can apply for a four-year residency in clinical pathology. You will have to extend your residency by one year to specialize in forensic pathology. The final step in the process is to apply for the regional pathology and forensic pathology board exams. Forensic pathologists require certification by the American Board of Pathology to practice in the profession.
Many forensic anthropologists have a doctorate. This can add up to seven years to your graduate degree, but still years less than pursuing an M.D. Therefore, based upon years attending college, the benefit goes to forensic anthropology.
The pendulum does not swing completely towards forensic anthropology concerning degree benefits. You can circumvent the medical degree by becoming a pathology assistant. The appropriate courses during a Bachelor of Science degree should make you eligible to enter the field of forensics. According to the American Association of Pathologists' Assistants, you will need to attend a NAACLS (National Accrediting Agency for Clinical Laboratory Sciences) Accredited Training Program. This is a viable option to reduce your years of schooling.
Overview of duties and areas of study: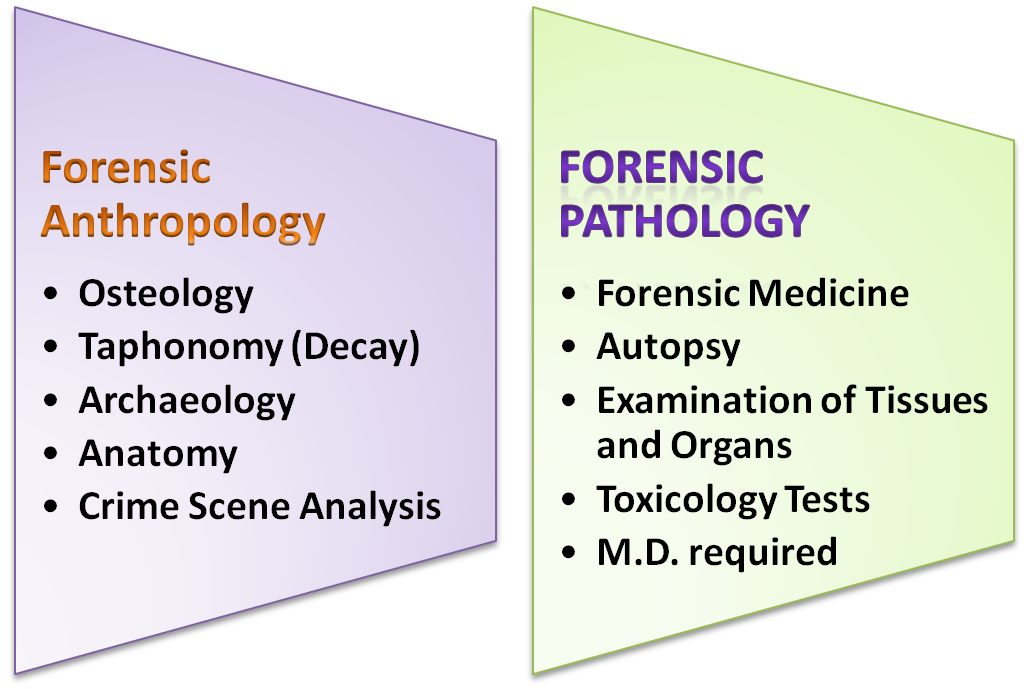 Salary
The U.S. Bureau of Labor Statistics (BLS 2017) does not report on the occupation of pathologist. They do report on Physician Assistants who earn a median salary of $104,860 as of May 2017.
The BLS reports the median salary of anthropologists at $62,280 with a master's degree. The projected job growth is 4% through 2026.
Additional Resources:
What degree do I need for Forensic Anthropology?
What Is the Benefit of a Nursing Degree Vs a Medical Degree?
What Is the Benefit of a Biomedical Engineering Degree Vs a Medical Degree?