What is Fraud Risk Analysis?
The Association of Fraud Risk Examiners (ACFE) defines the term as "an assessment process to determine the likelihood of a fraud being committed, what can be done to prevent it, and which prevention technique is the most commercial to undertake".
The ACFE reports that multiple forms of fraud – equivalent to around 5 percent of revenues – affect corporations each year.
Fraud is mainly associated with financial threats – including a direct loss of financial resources (money or assets); a loss of information (financial information, patents etc.); or the incurring of unnecessary costs (resulting from bribery etc.).
Fraud Analysis vs. Forensic Accounting
Is there a difference between these types of investigation? They each involve accounting and auditing to determine if fraud or another form of financial misappropriation has occurred.
A forensic accounting is similar to fraud analysis, as the purpose of both is to uncover fraud. Their objective includes finding out who committed the fraud, how they did it, how much they took, and how to stop it from happening in the future. Where they differ is the investigative approach. While forensic accounting and fraud analysis/auditing are related, the latter is more anticipatory.
A fraud risk analyst looks for fraudulent or suspicious activity and monitors transactions for risks. They may work for banks or other financial business firms and use evidence, statements, and testimony to identify and analyze fraudulent activity and trends. The analysis helps to lower a company or individual's risk.
However, financial institutions are not the only place for fraud. It occurs in the sectors of pharmaceuticals, manufacturing, government, and even churches.
What degrees do companies want?
Here are examples from randomly selected online job postings.
A corporation in the sports and live entertainment business seeks a Fraud Risk Analyst to investigate potential fraud, identify fraud patterns, make the necessary security adjustments, adjust the payment fraud settings, analyze chargeback data, and more. The job requires a minimum of a Bachelor of Arts/Sciences Degree (4-year) in Business or Finance.
A large U.S. bank seeks a Fraud Risk Senior Analyst to join their Retail Bank Fraud Analytics team. The job entails combating financial crime for individuals with investigative skills. The company prefers someone with a data science background. To qualify, applicants need a Bachelors degree in Statistics, Economics, Computer Science, Finance, Mathematics, or a related quantitative field.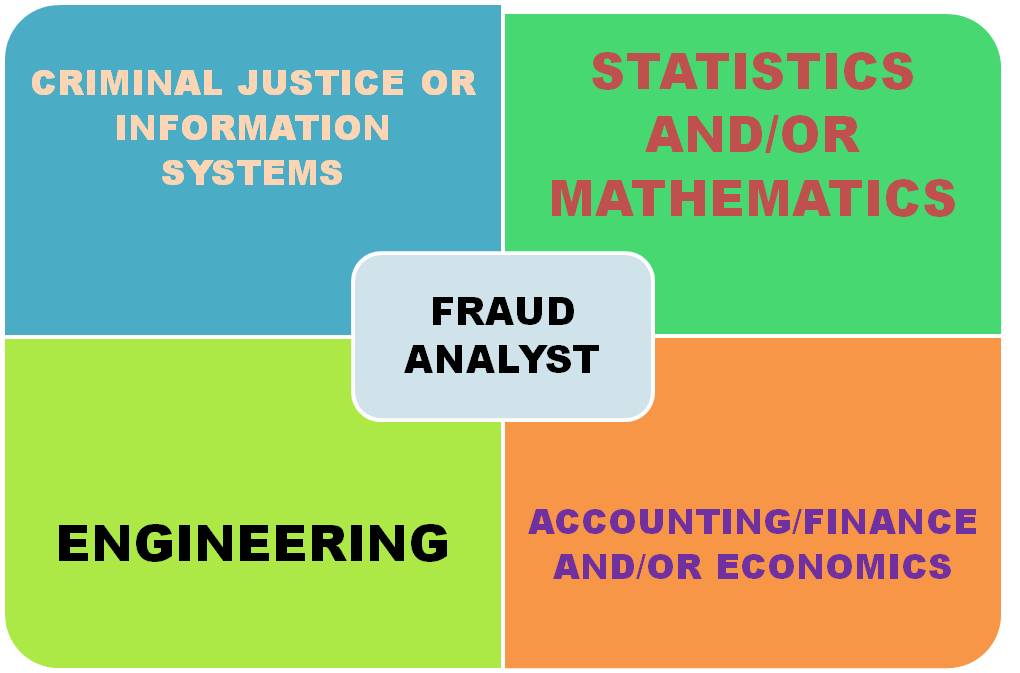 Another job posting from a major bank seeks a Fraud Analyst. The individual will be analyzing and detecting fraud trends, patterns, and common points of compromises on the Credit and/or Debit card portfolios. The goal is to mitigate exposure to risk through the implementation of preventive actions. An Associate's degree in Criminal Justice is preferred.
Fraud risk analysts are in demand in more businesses than just financial institutions. There is a job posting with one of the major cell phone companies seeking a Senior Analyst-Risk Management. Two of the duties listed are (1) Identify activities requiring investigation; (2) Lead confidential, independent investigations of suspected fraud involving employees/agents/customers. The qualified candidate must have a Bachelor's degree in Accounting, Finance, Economics, Criminal Justice, Math, Engineering, or Information Systems. In addition, two or more years of work experience with a concentration in operational compliance, network, business controls or finance.
Most analyst positions require a Bachelor's degree. As these job postings illustrate, employers seek analysts with majors in statistics, accounting, economics, mathematics, or other quantitative subjects. Your coursework may include classes in data analysis, forecasting risk, statistical modeling, and research. Some employers prefer a graduate degree for senior-level analysts or management jobs.
The greatest number of fraud risk analysts work in the insurance, financial, and retail industries. Careers include loss prevention, financial crime analysis, insurance fraud prevention, and fraud analysis. Some organizations add risk analysis duties to other job roles instead of hiring a full-time fraud risk analyst. Job roles that typically include fraud risk analysis are risk management, financial auditing, and quality assurance.
Certification
By becoming certified, you stand out in your profession. One of the best is the Certified Fraud Examiner credential offered through the ACFE. The Certified Fraud Examiner (CFE) credential denotes proven expertise in fraud prevention, detection, and deterrence. CFEs are trained to identify the warning signs and red flags that indicate evidence of fraud and fraud risk. To be eligible for the exam, you need a Bachelor's degree and at least two years experience in one of their designated fraud-related professions.
Conclusion
Judging from the job postings, the required degree varies depending on the respective company's line of business. Some have the need for graduates in criminal justice, others stress accounting or forensic accounting. The point is- you have several degree choices to become a fraud risk analyst.