We use the term security engineering in the collective sense, as it refers to different areas of computer security. This includes cyber security, network security, computer engineering, computer security, and networking. This post will provide some of the graduate degree choices in this field with a brief synopsis of each. This may help you make an informed decision for individuals considering an advanced degree.
Computer Engineering
A Master of Science degree with a concentration in Network Security can be completed in 10 months online. The evolving curriculum includes courses in ethical hacking, forensics, network security, and malware analysis. A total of 30 credit hours is divided between Computer Engineering Core and Math Electives.  Up to 6 semester hours of graduate credit may be transferred into the master's program. You will develop the advanced skills to track and counter a range of threats including espionage, hacktivism, and financial crime syndication.
Security Engineering
A major in Security Engineering in a Master of Science degree involves the subjects such as cryptography, protocols, and access control. Other courses study logistics, policy, and budgeting. Applicants must meet these requirements. These pertain to an undergraduate degree in a quantitative science, computer science, math, or engineering.
Cybersecurity
One of many in this field is an M.S. in Cybersecurity at the Whiting School of Engineering. The foundation courses cover Algorithms, Information Assurance, and Cryptology. There are three tracks-Analysis, Networks, and Systems. Each has its own additional requirements. Applicants should have had a course in networking prior to taking courses in the Networks track, a course in operating systems prior to taking courses in the Systems track, and a course in both before taking courses in the Analysis track.
Systems Security Engineering
This master's program provides a technical education in cybersecurity and principles of systems engineering. This program takes a systems approach to the current and emerging opportunities in security. The coursework integrates the traditional disciplines of computer science, electrical engineering, and mathematics, with economics and policy within a systems framework. The master's in systems security engineering prepares professionals to identify, evaluate, assess, and resolve systemic security issues.
Cyber Security and Information Assurance
Graduates of an M.S. in this concentration will be able to combat information systems threats.  Other learning features are the skills to develop secure systems that adhere to current standards. Three sample courses from the 30-credit program are Information Technology Governance, Microcomputing Technology, and Network Technology & Management.
Information Assurance
The Master of Science in Information Assurance with a major in Cybersecurity is a multi-disciplinary 30-credit-hour graduate degree. Information Assurance is the key means of defense against terrorist threats to homeland security and it is also of vital importance to businesses and organizations concerned about protecting their cyber assets. The curriculum consists of nine core courses (3 hours each) dealing primarily with cyberlaw, cyber defense, risk management, and cybersecurity technologies.
Information Security
A Master of Science in Information Security graduates students with the qualifications to analyze, plan, and implement computer security strategies to safeguard organizations and their data. This particular program offers two concentrations- technical or managerial.
Technical: This concentration covers the realm of security, including operating systems, cryptography, networks, and protocols.
Management:  Designed for IT leaders, the coursework consists of digital forensics, cybercrime, ethical hacking, and other topics related to risk and security management.
Cyber Security Engineering
The Master's in Cyber Security Engineering provides the knowledge and skills needed to handle various levels of  information security. Students will obtain an understanding of secure operating systems, secure applications, secure networking, and cryptography. You will be able to develop a security policy and know how policy affects technology decisions.
Electrical and Computer Engineering
Some of these programs in this combined major involve concentrations in Computer Networks and Security. One example is the course titled-Computer Hardware Security. It presents the foundations for understanding the new and evolving area of hardware security and trust, which have become major concerns for national security over the past decade. Other coursework covers Network Security, Cryptography, and Communications Security.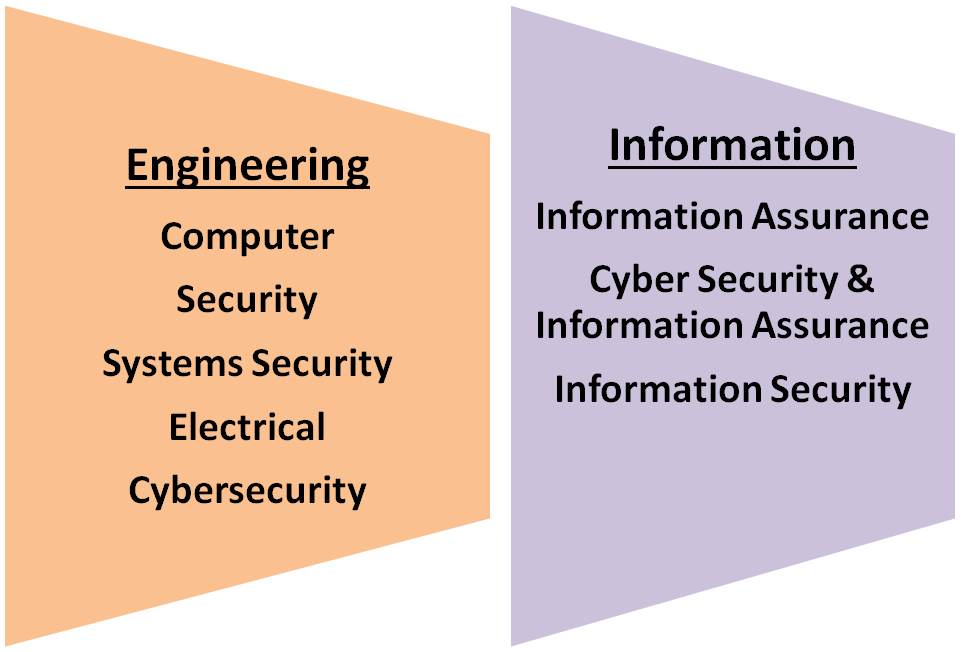 Master's Degree = Higher Compensation?
Most jobs associated with computer/network/cyber security are in demand. The U.S. Bureau of Labor Statistics (BLS) attests to this with their projected ten-year job growth of 28%. Individuals with a Bachelor's degree earn an average of $95,510 per year, according to the May 2017 BLS data. One could surmise that this salary might be even higher with a graduate degree.
According to Monster.com, the top five industries for cybersecurity professionals are:
Banking/Finance/Insurance,
Information Technology/Management
Government (Defense)
Government (Non-defense)
Consulting/Professional Services
Additional Resources
What should I know about Designations for a Degree in Cybersecurity?
What are the best Certifications to add to my Degree in CyberSecurity?
What is the Difference in a Degree in Cybersecurity and Network Security?
Where are Jobs in Demand with a Degree in Cybersecurity?
What Degree Do People With a Job in Computer Engineering Have?
What Is the Benefit of an Electrical Engineering Degree Vs a Computer Science Degree?
What is the difference between a Computer Science and Computer Engineering Degree?
What Occupations are there with a Degree in Information Systems Security?