Visual communications or visual communications design is a creative process that combines the visual arts and technology to communicate ideas. It begins with a message that, in the hands of a talented designer, is transformed into visual communication that transcends mere words and pictures. By controlling color, type, movement, symbols, and images, the visual communication designer creates and manages the production of visuals designed to inform, educate, persuade, and even entertain a specific audience.
The two terms are often interchangeable. However, visual communication is a broader term to define the kind of communication people receive through the reading or seeing. It is a good combination of words, pictures, photography, symbols, and signs. People are using these tools to promote their business and to express their view in a unique and beautiful manner. Enter the design feature of visual communication to accommodate our current world of bombardment by visual stimuli.
The brain processes an image 60,000 times faster than text.
Associate Degree
In a visual communications associate's degree program, you will be given the opportunity to master creative design while learning how to utilize computer technology in the world of business. Your education will teach you how to create visual productions for advertising and business purposes. You learn to visualize a concept and then produce it to sell a certain product or idea. This is done through the use of most up-to-date technological and computer skills available. You will likely learn about all forms of visual communication, including print materials, Web design, and film.
You may have the convenience of attending a local community college to earn an Associate of Fine Arts in Visual Communication. Here are samples of courses in a typical program of this type:
Visual Design:  This provides an introduction to the concepts and processes of graphics and media design. Students learn about the field of design and work with computers in bitmap, vector, and multimedia software as well as with traditional art and design media.
Visual Design for the Web: This course covers the concepts and techniques of art making for the internet and other interactive media environments. Students will create original websites with attention to design fundamentals such as color, typography, imagery, and composition.
Bachelor's Degree
At the baccalaureate level, the degree names vary from college to college. There are Bachelor of Fine Arts (BFA) and Bachelor of Arts programs. Some schools offer both degrees. This study plan might require 7 hours of coursework (or 22 courses) in the major area while the Bachelor of Arts (BA) degree requires 36 (or 12 courses). Generally, the BFA affords a larger portfolio due to considerably more design studio experiences. The BA is more suited to students who wish to double major or desire to create a custom experience combining visual communication design with art, art history, marketing, psychology, athletics, and more.
A BFA degree will develop your skills as a designer more than an Associate degree. For example, through assignments, students will work digitally to explore color, form, composition, texture, and typography. Students will gain a fluency in typography and its systematic application to traditional and modern media. The degree might also include the effective use of motion graphics through sketching, storyboarding, kinetic type, animation, narration, and soundtracks. Media delivery may include digital signage, web, broadcast, and other public venues such as a planetarium.
A bachelor's degree will open up more employment possibilities in Graphic Design, Graphic Art, Web and Multimedia Design, Packaging Design, Marketing Communications, Art Direction, Branding Design, Design Education, and also Independent Graphic Design Consulting and Operations.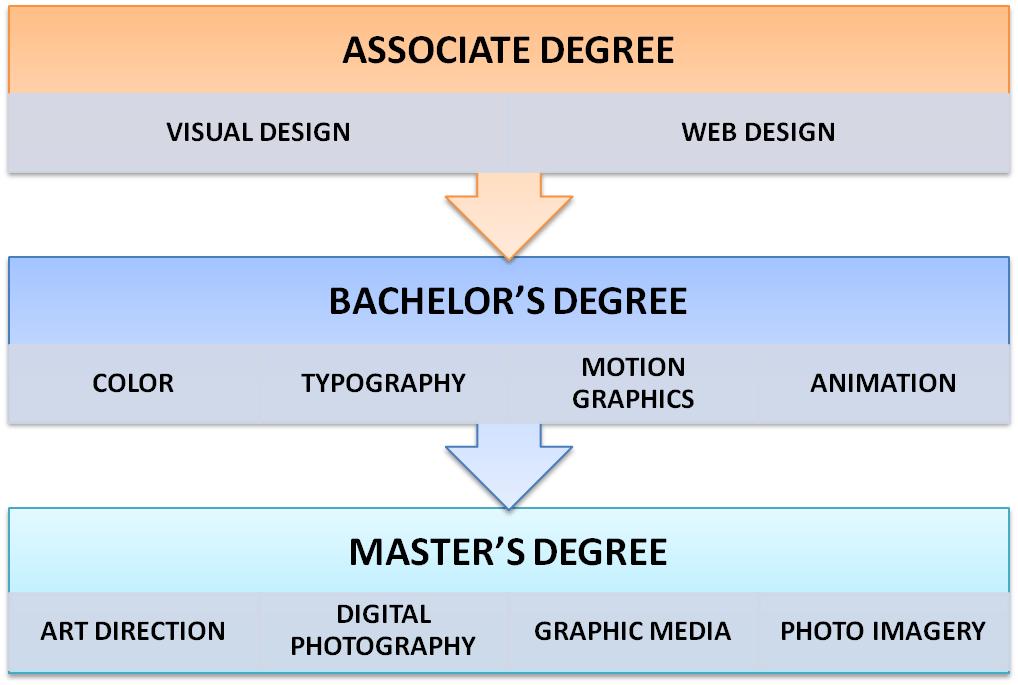 Master's Degree
A graduate program offers diverse areas to expand your skills in the realm of visual communication. For example, specialties are available in the arena of advertising and marketing. In addition, there are several online programs.
A Master's degree in Professional Studies in Design Management & Communications exposes you to the fields of design, communications, marketing, and related areas. You will gain expertise across a wide range of specialties, including creative strategy, design leadership, digital and traditional marketing communications, social media, management, and branding.
You may also consider a graduate degree in Visual Communication Design (MVCD). These can be studio-based 2-year programs designed to provide specialized studio design opportunities for those students who have an undergraduate degree in visual communication or graphic design. An alternative is a three-year first professional degree for students who do not have an undergraduate degree in visual communication or graphic design.
Another option at this level is a Master of Fine Arts with a major in Communication Design. This coursework will suit students who wish to study areas of corporate advertising art direction, graphic design, and digital media design. The curriculum includes the exploration and experimental use of the written word integrated with visual forms by using digital and traditional photographic, illustrated, and graphic media.
You will learn about the communication through marketing materials. This entails studying the development of typographic elements, layout grid constructs, photo imagery, and illustration for publication of corporate marketing materials. Your knowledge of marketing extends into the role of sustainable package design, if that meets the requirements of clients and consumers in the global marketplace.