Why earn a Master's?
The U.S. Bureau of Labor Statistics projected in 2016 that marketing management jobs should grow by 9 percent from 2016 through 2026. As the field of marketing becomes increasingly internet-based, managers with e-commerce and digital training are becoming particularly in demand.
Positions in marketing research are expected to increase by 23 percent from 2016 to 2026. Much of this increase stems from the growing need to collect and analyze "big data" for a variety of business applications. Job prospects are greater for those with master's degrees in marketing that focuses on data analysis and research. Market research analysts, marketing specialists, and marketing and sales managers with a master's degree can expect to earn $25,000 to $30,000 more than those with an undergraduate degree do.
There are online master's degree programs that can be completed between one and two years by full-time students. Per-credit costs for a typical online 30-26 credits program vary considerably. The cost per credit hour can range from $230 to $1,000. Students should expect to pay between $7,000 and $36,000 in total tuition.
This report looks at some of the master's programs in digital marketing and associated disciplines. There are choices that allow you to complete your graduate degree in less than two years. In addition, because of the various specialties and concentrations, you can tailor the degree to your career goals.
iMBA
This is the name for the online program offered by the Gies College of Business at the University of Illinois. The iMBA provides you with Practical Business Mastery along with the Leadership Vision. This degree has seven specializations, one of which is digital marketing. This specialization covers the concepts, tools, and techniques needed to communicate with customers in a systematic and integrated way and to create effective, targeted promotional campaigns.
The emphasis of the curriculum is marketing in a digital world, digital analytics, digital channels, and a capstone. The latter involves the analysis of a situation concerning an actual business to develop a digital marketing plan for the introduction of a new product. This is not an accelerated program, so expect the program to take the customary 24 months to complete.
Master of Science-Digital Innovation in Marketing
This degree teaches you how to apply exciting new technologies as well as measure and interpret data with sophisticated analytics. The 100% online approach integrates high engagement, networking, and professional development into a streamlined 16-month program. Courses include:
Information Technology Management
Digital Marketing
Data Analytics
Digital Business Innovation
User Experience Design
Social Media Innovation
Mobile Marketing Strategy
Digital Brand Management
Master of Business Administration
An MBA is one of the most popular graduate degrees. There is a selection of schools providing concentrations in digital marketing within their MBA. We mentioned one of these above. An accelerated online Master of Business Administration program enables you to graduate in 18 months or less.
St. Mary's University of Minnesota offers three areas of emphasis, one of which is Data Analytics. This MBA consists of 10 courses for 30 total credit hours. There are seven core courses and three specialization courses. The data analytics area covers data visualization, case studies in business analytics strategy, and ethics in data analytics.
Students graduating from the data analytics specialty will fall into the sector mentioned in the second paragraph. Namely, the demand for data analysis will increase.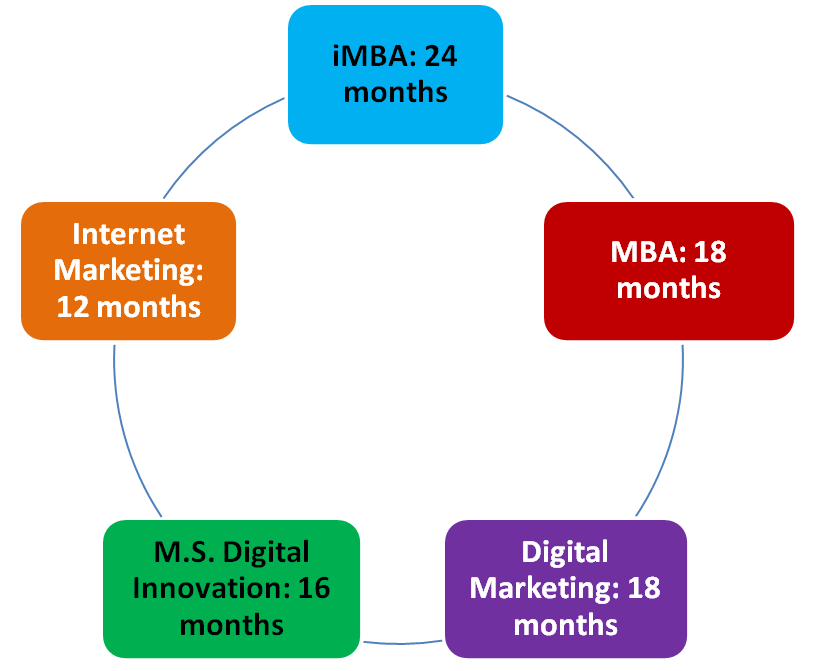 Internet Marketing
This is typically a concentration in an MBA program. At Benedictine University, you will learn the most effective web marketing tactics, strategies, and tools. Their internet marketing concentration studies the fundamentals and best practices of SEO, including keyword research and analysis, link-building, link-baiting, and copywriting. You will examine the basic framework of web analysis, gain proficiency in testing, and leverage analytics insight into useful surveys, experiments, and assessments.
This MBA degree online program provides two options:
The traditional one-course-at-a-time online program, which working professionals can fit into their schedules easier.
The fast track entails taking two courses at a time in the accelerated online MBA program.
Depending on your educational background, you could complete the degree in as few as 12 months.
Digital Marketing
Another concentration within an MBA program prepares graduates for a career in marketing management.  Upon completion of this digital marketing concentration, students should be able to lead and manage an organization's strategic marketing development in the digital economy.
Concentration classes include the psychology of marketing, digital marketing, advertising for managers, and product and brand development. Core classes explore foundational business topics, such as accounting, analytics, and legal and ethical concerns. The completion time is as low as 18 months.
What are the Benefits?
A 2017 year-end study by LinkedIn found that two of the top five skills leading to employment are in internet marketing: marketing campaign management and SEO/SEM (search engine optimization/marketing) marketing. A 2017 report from McKinley Marketing Partners found that 56% of surveyed companies want employees with digital marketing skills.
Related Articles:
What Can I Do With a Degree in Marketing?
Top 10 Affordable Online Bachelor's Degree Programs in Business Administration
What Degree do I need for Digital Marketing?