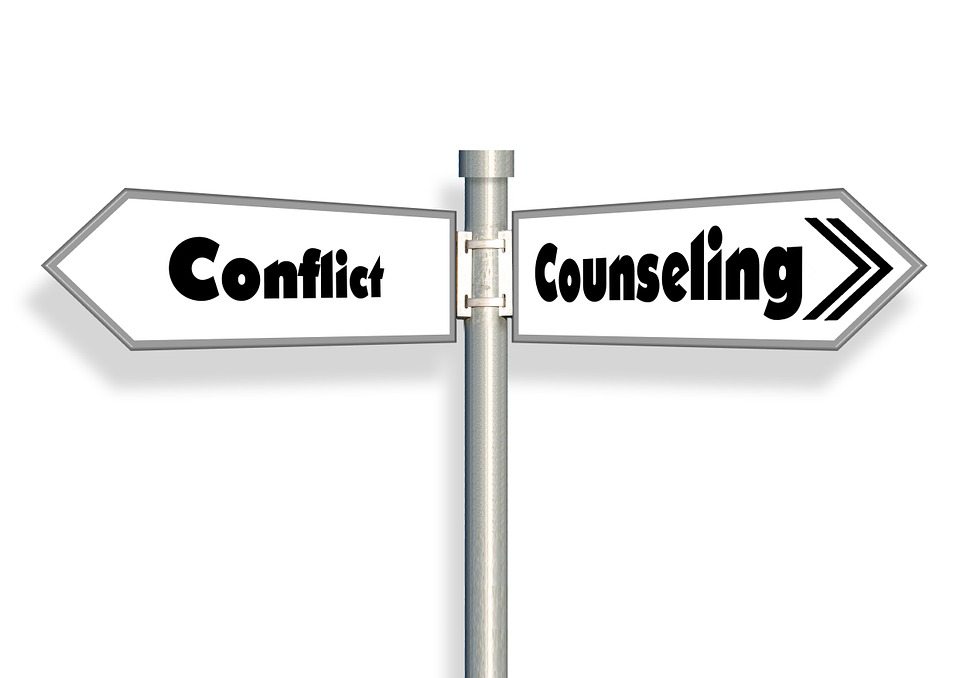 IMAGE SOURCE: Pixabay, public domain
Before considering counseling as your career, you must reflect on what it takes to be successful. One of the prime attributes is empathy. The Merriam-Webster dictionary defines empathy as:   the action of understanding, being aware of, being sensitive to, and vicariously experiencing the feelings, thoughts, and experience of another of either the past or present. Carl Rogers (1902-1987), eminent American Psychologist, defined empathy as a core condition for successful counseling. Mr. Rogers stated that "deep understanding is, I believe, the most precious gift one can give to another." If these words describe you, then counseling may be the ideal niche.
The following counseling specialties are typically attained with a Master's degree in the respective area of concentration.
Marriage and Family Counseling
Marriage and family therapists/counselors offer guidance to couples, families and groups who are dealing with issues that affect their mental health and well-being. Sometimes even the strongest family unit may need support and guidance in dealing with unexpected circumstances such as illness, death or unemployment. Other times, they may require that same support from an impartial observer in order to manage personal conflicts.
Rehabilitation Counseling
People with disabilities face challenges that require creative solutions. Whether a person has a physical, mental or emotional disability, rehabilitative counseling helps them achieve personal and professional goals, and lead their lives more freely. But not all rehabilitation counselors work directly with individuals. Some are advocates for those, in general, who are physically and/or mentally challenged. Some coordinate transitional services for young people who are aging out of the school system. Some help employers or universities make reasonable accommodations and stay in compliance with regulations.
Mental Health Counseling
A counselor who specializes in mental health counseling may interact with people who have normal cognitive processes, but cannot  cope with difficult life events. This could be due to physical illness, death of loved ones, relationship problems or divorce. Others may help people manage serious mental illnesses like bipolar disorder, a manic-depressive illness. These counselors need to know when to refer clients or patients for additional resources and how to identify physical or domestic abuse or when there is a risk of suicide or other violence.
Addiction/Substance Abuse Counseling
An addiction/substance abuse counselor is a support system for people with drug and alcohol problems, eating disorders and other behavioral issues. They teach individuals how to modify their behavior with the intention of full recovery. But substance abuse and behavioral disorder counselors don't only offer their expertise to patients. Counselors often run outreach programs to warn others about the dangers of addiction and encourage a healthy lifestyle.
Educational Counseling
School counselors have a minimum of a master's degree in school counseling, meet the state certification/ licensure standards and abide by the laws of the state in which they are employed.  Their goal is to address all students' academic, career and social/emotional development needs by designing, implementing, evaluating and enhancing a comprehensive school counseling program.  Hence, promoting and enhancing the student's success.  Most school counselors are employed in elementary, middle/junior high and high schools.
Career Counseling
Career counseling  focuses on helping people make the best of their careers, whether they're just starting out in the work force or searching for a career change. Since a career can be a lifelong process, counselors are needed for those entering college, current college students, as well as those  disillusioned with their present occupation. For those who believe they are mismatched in their current occupation may seek counseling.  Through testing procedures and discussion, a career counselor can help identify the factors influencing your career development, and help you assess your interests, abilities, and values.