This is the compilation of several sources, including: College Media Matters, US News & World Report, College Factual, College Magazine and USA Today. All of these learning institutions have regional accreditation, as stated, and more importantly, all have been accredited by the Accrediting Council on Education in Journalism and Mass Communication (ACEJMC).  The agency responsible for the evaluation of professional journalism and mass communications programs in colleges and universities. Accredited programs in journalism and mass communications offer the assurance that they have been evaluated by academic peers and leading practitioners and have met the tests of the nine standards. Students in an accredited program can expect to find a challenging curriculum, appropriate resources and facilities, and a competent faculty.
For most prospective college students, the choice of one's major may also be influenced on the employment prospects. Why spend all the time and money to earn a degree, then realize that there are few job openings throughout the United States. One valuable source is peruse the site: journalismjobs.com. JournalismJobs.com was founded in August 1998 by Dan Rohn, a former copy editor and business writer with The Washington Post, editor with America Online, and Washington, D.C.-based stringer for Money Magazine. JournalismJobs.com is the largest and most-visited resource for journalism jobs, and receives between 2.5 to 3 million page views a month. This site has been used by every major TV, internet and print media source in the country: ESPN, CNN, ABC, Discovery Channel, Fortune, Time Magazine, and the list goes on.
Note: The one exception to the ACEJMC accreditation is Ithaca College. The accreditation standards for ACEJMC actually limit the number of communications courses that students can take. They require that students take a minimum of 80 credits outside of the school while Ithaca requires that students take at least 60 credits of their coursework outside of communications. The Park School believes it is more important for the students to take more courses within their major.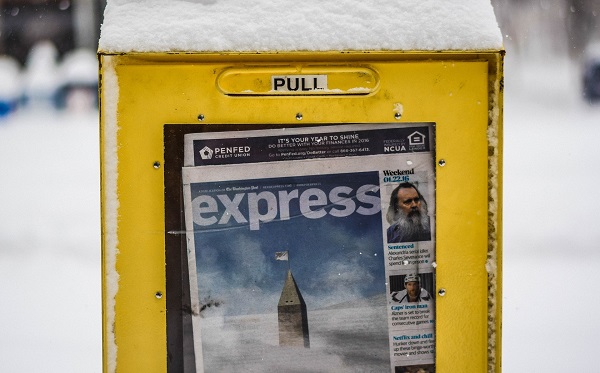 IMAGE SOURCE: Pixabay, public domain
1. University of Missouri- Columbia
The 106-year-old Missouri School of Journalism — the oldest Journalism school in the country, if not the world — is known for its "Missouri Method" that enables students to receive hands-on training in real news media, including the school-owned KOMU-TV, the NBC/CW affiliate for Columbia and nearby Jefferson City, Mo. There is AdZou which is the capstone class for strategic communication seniors. Students work in teams to create a complete research-based campaign for a real company or organization under the direction of advertising, public relations and marketing professionals. Also, there is the Columbia Missourian- a digital-first publication that was founded in 1908 as a community newspaper. It regularly beats out the St. Louis Post-Dispatch, Kansas City Star and Columbia Tribune for state journalism awards.
At all levels of study, the Missouri School of Journalism takes a multidisciplinary approach to its curriculum. Missouri journalism students can choose from an array of more than thirty interest areas, which allows them to tailor their studies to their career goals. The School is able to offer these options because of the breadth and depth of expertise represented by our more than eighty faculty members. Programs range from undergraduate to master's programs in journalism that began in 1921. For those interested in a doctor of philosophy, the school awarded the nation's first Ph.D. in journalism in 1934. Since then, Missouri graduates are represented in colleges and universities around the world, serving as deans, chairs and professors.
Accreditation: North Central Association of Colleges and Schools/Higher Learning Commission
Tuition: $10,586 (resident); $25,198 (non-resident)
2. University of Georgia
Established in 1915, the Henry W. Grady College of Journalism and Mass Communication is named after legendary Atlanta journalist and University of Georgia alum, Henry Woodfin Grady (1850-1889). A child of the Civil War, Grady served as editor for the Atlanta Constitution, building the newspaper into the one of the most influential publications in the nation. The mission of the Grady College of Journalism and Mass Communication is to prepare students to be effective users and practitioners of the mass media, to provide the mass media with more and better services for their consumers, and to assist the public in using the mass media to meet personal and community needs.
The Grady College offers undergraduate degrees in advertising, public relations, digital and broadcast journalism, mass media arts, journalism with an emphasis in magazines, public affairs, publication management or visual journalism, and a certificate in new media. The College also offers a master's and doctoral degree in mass communication, as well as a certificate in media industry research. The College is home to several prominent centers and institutes, including the Peabody Awards, recognized as the most prestigious award in electronic journalism. Grady's faculty comprise of internationally known researchers and respected industry professionals. Alumni include Pulitzer Prize winning journalists, Emmy Award winning producers, news reporters and company CEOs.
Accreditation: The Southern Association of Colleges and Schools Commission on Colleges 
Tuition: $11,662 (resident); $29,832 (non-resident)
3. Northwestern University
Medill School of Journalism, Media, and Integrated Marketing Communications has been a leader in education since 1921. The school offers programs in journalism and integrated marketing communications that combine enduring skills and values with new techniques and knowledge that are essential to thrive in today's digital world. Joseph P. Medill was a leading newspaper editor, publisher and politician. He was co-owner and managing editor of the Chicago Tribune, and served as mayor of Chicago. The Medill School of Journalism was dedicated on Northwestern University's Evanston campus on Feb. 8, 1921.
At the undergraduate level, Medill has a long-standing reputation for journalism excellence. The school is producing a new generation of multimedia journalists and communicators who will not only thrive in this evolving media landscape but also help shape it. At the master's level, students will  learn enduring professional skills and values as well as new techniques essential to success in contemporary journalism. There are programs as diverse as business and money, health and science, social justice and investigative reporting, media strategy and leadership, as well as sports media. These graduate programs have allowed students to work in Washington newsrooms, the Associated Press (AP), and national security news agencies.
Accreditation: The Higher Learning Commission
Tuition: $48,624 
4. Syracuse University
The roots of the S.I. Newhouse School are found in Syracuse University's former School of Journalism, which was founded in 1934 under Dean Lyle Spencer. At that time the curriculum was dedicated mainly to print media. In 1964, supported by a gift from Samuel I. Newhouse, the Newhouse Communications Complex was officially inaugurated in Newhouse 1, the award-winning I.M. Pei building, which housed the School of Journalism. Beginning in 2012, supported by lead gifts from the Kari and Dick Clark Foundation (Dick Clark '51 was a Syracuse alumnus) and Cablevision Industries founder Alan Gerry, Newhouse 2 underwent an $18 million renovation to enhance and expand its studio facilities.
Currently, the school offers eight undergraduate degrees: advertising, broadcast & digital journalism, graphic design, magazine, online journalism, photography, public relations, and television, radio and film. The master's program offers a total of 16 specialty areas at the Newhouse School. There is a three-year doctoral program available that emphasizes excellence in research and teaching in the mass communications field. In Newhouse's Ph.D. program, you will find a stimulating intellectual environment where you may explore and specialize in a variety of topics, including media ethics and diversity; media sociology; new media; political communication; popular television; public relations; or social effects.
Accreditation: The Middle States Commission on Higher Education
Tuition: $753 per credit hour (bachelor's); $1,388 (master's)
5. Ball State University
Ball State's tradition of innovation and entrepreneurship is rooted in the late 19th century, when Muncie business leaders envisioned a local college to help boost the city's development. Among the visionaries were Frank C. Ball and his brothers, young New York industrialists who moved to Muncie looking to expand their glass container business. A small, private teacher training school opened 1899. It has been named one of the best universities in the Midwest by The Princeton Review for 11 years, as well as been classified by the Carnegie Foundation for the Advancement of Teaching as a research university. It has also been recognized for first-year programs by U.S. News & World Report for 10 years. Their College of Communication, Information, and Media students and faculty have won 54 Emmys. The school's journalism graphics program is one of the leading programs of its type in the country.
In Ball State's Department of Journalism, you'll learn advertising, journalism, and public relations from their foundations in communication, persuasion, and storytelling. There are five undergraduate Journalism majors to chose, and two majors in the Strategic Communications program. At the graduate level, Ball State has  first and only public relations graduate program in the nation to receive certification in education for public relations from the Public Relations Society of America. The school offers an online Master of Arts (MA) in Journalism, as well as three ways (online, on-campus, or a blend of both) to earn an MA in public relations. For those not ready to commit to a master's degree, the school offers four graduate-level certificates. These 15-credit hour certificates take less time to complete, and the courses can be applied toward a master's degree.
Accreditation: The Higher Learning Commission
Tuition: $7,698 (Indiana residents); $23,472 (non-residents)
6. Arizona State University
The Walter Cronkite School of Journalism and Mass Communication is widely recognized as one of the nation's premier professional journalism programs. Students are guided by a faculty that is made up of both award-winning professional journalists and world-class media scholars. Located on Arizona State University's Downtown Phoenix campus, the Cronkite School leads the way in journalism education with its innovative use of the teaching hospital model, for which it has received international acclaim. The school's full-immersion professional programs give students opportunities to practice what they've learned in intensive real-world settings under the guidance of top-flight professionals.
At the undergraduate level, all students in the journalism major work toward a degree in journalism, taking core classes in addition to electives and advanced classes in reporting, public relations, digital media, broadcasting and media innovation and entrepreneurship. In addition to their regular coursework, Cronkite students have unmatched opportunities to build their portfolios and skills in innovative and immersive professional programs. The Cronkite School is now offering a sports journalism degree for graduate and undergraduate students interested in careers in sports media. The Bachelor of Arts in Sports Journalism is a four-year, 120-credit-hour program featuring classes in sports reporting, videography, photojournalism and ethics and diversity, among others. The Master of Arts in Sports Journalism is a one-year, 36-credit-hour program in which graduate students take advanced courses in multimedia sports reporting, data journalism, ethics and media law.
Accreditation: The North Central Association Higher Learning Commission
Tuition: $10,157
7. University of Oklahoma
The Gaylord College of Journalism and Mass Communication was named one of the top 10 journalism programs in the nation by TVWeek.com and the Radio Television Digital News Association. Located on the campus of the University of Oklahoma, it is one of the largest colleges at the site. Formerly known as the H.H. Herbert School of Journalism and Mass Communications, it achieved college status in July 2000 with a $22 million gift from the Gaylord family.  The college offers the following degrees within Gaylord College:
Bachelor of Arts in Journalism with majors in advertising, journalism, professional writing, public relations, and creative media production
Master of Arts in Journalism with emphases in journalism, mass communication management, strategic communication or media arts
Master of Professional Writing
Ph.D. in Mass Communication with emphases in news and information, strategic communication or media arts
At the bachelor's degree level, Gaylord offers these areas of interest:
Advertising: learn to create persuasive messages that are intended to inform consumers about products and services
Creative Media Production: students create documentary films, radio programs, scripted entertainment, commercial productions, as well as music and sports magazine shows
Journalism: learn to inform, entertain and educate the world through a variety of mediums including newspapers, magazines, radio, television and the Internet
Professional Writing: Gaylord College will teach you the craft of writing fiction, short stories, magazine articles and screenplays
Public Relations:  become experts at strategic planning, crafting messages and cultivating relationships with stakeholders and promoting public images
Accreditation: The Higher Learning Commission
Tuition: $10,090 (resident); $23,476 (non-resident)
8. University of Arkansas
Founded in 1871 as a land-grant college and state university, the University of Arkansas established its campus on a hilltop overlooking the Ozark Mountains. There were few facilities and little money that first academic year, but the eight students and three faculty members who gathered for classes in 1872 showed the same dedication to learning and commitment to excellence that has carried the University of Arkansas into the 21st century. The institution has the highest graduation rate in Arkansas, a rate that has continued upward during the last decade. The average high school GPA of freshmen, now above 3.5, also continues to rise, according to the school's website. Students at the University of Arkansas can pursue a bachelor's degree in about seventy-five fields of study, with graduate degrees available in the Sam M. Walton College of Business, the College of Engineering, the School of Law, and the Walter J. Lemke Department of Journalism.
The undergraduate program has three areas of emphasis: Editorial/News Sequence, Broadcast Radio & TV Sequence, and Advertising & Public Relations. Journalism majors frequently select electives in marketing, history, political science, English, sociology, psychology, anthropology, and art. The department maintains an enrollment of approximately 600-700 students. Their Journalism Honors Program gives upper-division undergraduates a chance to pursue journalistic research in the context of other academic disciplines. The Walter J. Lemke Department of Journalism also offers an Master of Arts in Journalism. Students can select from a variety of concentrations, such as Documentary Film, Strategic Advertising & Public Relations or take courses in a variety of journalism topics.
Accreditation: The Higher Learning Commission
Tuition: $8,522 (in-state); $23,320 (out-of-state)
9. Indiana University
Anyone attending Indiana University's Media School/Journalism will learn the name, Ernie Pyle. Ernie was a master of telling the story of the little guy, of describing the fears and daily strife of soldiers fighting in World War II. An early "embedded journalist," he worked alongside the troops, experiencing much of what they did, placing himself in danger as they did. His columns captured the scene and his reporting humanized the war for many of his readers. Reporting from a small island, just west of Okinawa, Ernie was killed by gunfire on April 18, 1945. What is his connection to IU? Pyle attended this university, taking journalism so he could begin "begin writing for information." On the Bloomington campus, Pyle became editor of the Daily Student newspaper. Just prior to graduation, Ernie left to take a job with the LaPorte (Indiana) Herald. The Pyle name has remained associated with Indiana University both because his name graces the building in which IU Journalism is housed, and because of the Ernie Pyle scholarships.
The school offers a Bachelor of Arts in Journalism with courses including: online journalism, broadcast news, photojournalism, advertising, and media management, to name a handful. Additionally, their master's degree offers experiences that are both broad and deep, thanks to the journalists-professors who serve as your mentors, and the travel, internship and workshop opportunities that extend your learning beyond Ernie Pyle Hall. Choose to specialize in one area, such as digital journalism, or develop a broader view of the fast-changing media industry. For those desiring a doctorate, in the fall of 2015, the new Media School will offer an integrated Ph.D. that brings together the existing programs in telecommunications, journalism, and film.
Accreditation: The Higher Learning Commission
Tuition: $10,388 (in-state); $33,740 (out-state)
10. Boston University
Located in Boston, Massachusetts, the College of Communication (established in 1947), students gain a deep understanding of communication in its various forms, combined with a solid grounding in liberal arts. Students become proficient in writing, oral communication, visual literacy and digital media skills. The College combines academic rigor and professional "hands-on" skills in all areas of communication, including television, film, radio, public relations, advertising, new media, journalism and communication theory. COM graduates have been recognized as some of the best in their respective fields, having won Pulitzer Prizes, Emmy Awards and Clio Awards (excellence in advertising) to name a few.
COM offers Bachelor of Science degrees in Communication, Film & Television and Journalism. Undergraduates may pursue concentrations in Advertising, Broadcast Journalism,Communication Studies, Film, Photojournalism, Public Relations and Television. Graduate students may elect to study in various fields that cross disciplinary boundaries in this new media marketplace, such as: advertising, journalism, media ventures, science journalism, and television. Notable graduates include: COM counts two "Mad Men" filmmakers among its alumni: director Jennifer Getzinger ('90) and Maria Jacquemetton (COM'85), who served as a head writer and executive producer on the acclaimed series.
Accreditation: The New England Association of Schools and Colleges 
Tuition: $47,422
11. New York University
What better place to be pursue journalism than New York city, especially at the Arthur L. Carter Journalism Institute. Surrounded by Manhattan's Greenwich Village neighborhood, the Institute immerses students in the richness and vitality of the city, while attracting to campus many of the leaders and thinkers in the journalism profession. New York is a great classroom, and it provides inspiration. More importantly, NYU professors continue to practice the journalism they teach and preach, holding the profession to its highest standards of public service and intellectual weight. Housed within the Arts and Sciences core of a leading university, the Institute treats journalism as an essential strand in the liberal arts tradition, and a critical factor in public culture.
At the undergraduate (B.A.) level, students train to report and write for print/online media, or report and produce for broadcast media in the Journalism concentration, or can choose a concentration in Media Criticism. The former prepares its students to think, research, report and write as journalists who aspire to the highest levels of the profession in whatever subject areas they ultimately embrace. The latter equips students with the analytical methods and historical context necessary to transform them from passive media consumers into critical thinkers. It draws on disparate schools of thought, from Plato to postmodernism. For those interested in a master's degree, NYU offers ten areas of study from science to business to digital reporting.
Accreditation: The Middle States Commission on Higher Education 
Tuition: $47,750
12. University of Florida
The University of Florida (UF) College of Journalism and Communications is considered one of the nation's best.  the College developed its reputation for excellence by creating curricula that combine conceptual and theoretical instruction with skills training so students have the opportunity to apply what they are learning in professional settings. Professional and practical opportunities are key components of a productive learning experience for students in journalism and communications fields and contribute to the College's national rankings. A nationally recognized leader in communications technology, the College has been an innovator in adopting electronic technologies for instruction in all fields. The College supports a network of more than 300 computers, with software applications for student use ranging from word-processing to graphic design/photography to sophisticated data analysis and digital video editing.
The College offers bachelor's degrees in advertising, journalism, public relations and telecommunication, and enrolls approximately 2,300 undergraduates in these fields. It offers master's degrees and doctorate degrees in mass communication and enrolls approximately 200 students at the graduate level. The College has launched three online master's degrees and certificate programs in Global Strategic Communication, and Web Design and Online Communication and Social Media. In addition, the College includes The Brechner Center for Freedom of Information, the Jerry Davis Interactive Media Laboratory and the Knight Division for Scholarships, Career Services & Multicultural Affairs.
Accreditation: The Southern Association of Colleges and Schools Commission on Colleges 
Tuition: $6,310 (in-state); Out-of-state add: $22,278
13. University of North Carolina-Chapel Hill
The University of North Carolina's  School of Media and Journalism has long been a leader in community journalism. Located in Chapel Hill, UNC will open a new research center to explore new models for community news and support the testing and development of innovative digital media products for local news sites. The research center will further allow the school to build upon its work developing new digital tools and products that can help reporters and editors be more effective and nimble in the newsroom. The School of Media and Journalism will work to pursue multiple lines of research and activities around the digital transformation of news organizations — and share the research findings, information and resources with industry leaders to encourage discussion and interaction.
The School of Media and Journalism offers nine undergraduate majors and specializations from advertising to strategic communication. The Master of Arts in Mass Communication offers three tracks — professional, mass communication and interdisciplinary health communication (IHC) — and several specializations, including science and medical journalism, business and media, broadcast and electronic journalism, reporting, strategic communication and visual communication/editing/multimedia. Additionally, there is a Ph.D. program in mass communication is designed to prepare students for college teaching and research positions or research careers in mass communication industries, advertising agencies, market- or opinion-research firms, business or government.
Accreditation: The Southern Association of Colleges and Schools Commission on Colleges
Tuition: $8,562 (resident of state); $33,644 (out-of-state)
14. University of Maryland
The Philip Merrill College of Journalism traces its roots to the creation of the Department of Journalism and Public Relations in 1949, though journalism courses were offered at the University of Maryland (UM) as far back as 1919. Today the college is one of the world's leading journalism schools, with a distinguished faculty dedicated to enhancing the news industry and training the next generation of journalists in a state-of-the art facility near the nation's capital. The college provides immersive professional experiences throughout its curriculum and runs one of the country's oldest and strongest student-powered news operations–Capital News Service–with bureaus in Washington, D.C., Annapolis and College Park. Merrill students also produce an evening TV news program that airs on the Internet and is broadcast by UMTV to more than 400,000 households in the Washington, D.C. region.
At the bachelor's degree level, students majoring in journalism take approximately one-third (42 credits) of their total coursework in the Philip Merrill College of Journalism. Journalism courses are rigorous and train students in the fundamental values, concepts and skills needed for successful careers in multiple media platforms, including the Internet, television, radio, newspapers, magazines and mobile devices. Merrill offers one of the best master's degree programs in the country. It is designed to be taken full time and completed in 12 to 15 months, culminating in a Master of Journalism degree (non-thesis) or Master of Arts degree (thesis). At the doctorate level, Maryland's elite Ph.D. in Journalism Studies prepares scholars for next-generation research in the key issues confronting journalism in the 21st century.
Accreditation: The Middle States Commission on Higher Education
Tuition: $4,997.91 per semester (resident); $15,571.91 (non-resident)
15. University of Kansas
The William Allen White School of Journalism and Mass Communications has been continuously accredited since 1948 by the Accrediting Council on Education in Journalism and Mass Communications, with the first journalism class at KU dating back to 1891. The KU School of Journalism is a leader in innovative teaching that prepares students for today's workplace. The Fiske Guide to Colleges has given KU high marks for academics and quality of life, calling it "one of the premier college bargains in the United States." The KU School of Journalism has nearly 14,000 graduates in the United States and 49 other countries around the world. The school has also received many prestigious national accolades from the Hearst Foundation's Writing Awards program, often called the "College Pulitzers."
KU offers two undergraduate programs: News and Information, and Strategic Communication, both allow students to earn a Bachelor of Science in Journalism. At the graduate level, there is a Master of Journalism (MSJ) located at KU's Lawrence campus. This degree emphasizes the study of real-world media issues, critical thinking and media use. Another master's degree is offered in Integrated Marketing Communication (MSJ-IMC): located at KU's Edwards Campus, is for working professionals who want to further develop their integrated marketing communications expertise. A third degree is offered: MS/JD Journalism/Law Joint Degree. This particular program offers students academic grounding in both journalism and law and prepares them for professional practice in journalism, law or media law. Finally, KU offers a Ph.D. in Journalism and Mass Communication.
Accreditation: The Higher Learning Commission of the North Central Association of Colleges and Schools
Tuition: $10,448 (in-state); $25,731 (out-of-state)
16. Ohio University
The history of E.W. Scripps School of Journalism predates its name. In 1923, Raymond M. Slutz offered first journalism course in English Department, with frequent visits in class from Athens Messenger personnel (Frederick W. Bush, publisher; Charles Harris, managing editor; and P.O. Nichols, advertising manager). Thirty-two students take first class. Fast forward to 1983, the School of Journalism was re-named E.W. Scripps School of Journalism to honor E.W. Scripps, a penny press pioneer who founded a newspaper group that eventually included almost 40 newspapers, including three in Ohio's principal cities. The E.W. Scripps Papers are available through Ohio University's Special Collections (Alden Library).
Their Bachelor of Science in Journalism has a curriculum that is blended with a strong liberal arts foundation with professional skills courses.Two tracks are offered, all leading to this undergrad degree: (1) news and information (encompassing broadcast news, magazine journalism, news writing and editing, and online journalism) and (2) strategic communication (encompassing advertising and public relations). There is also a Masters of Science in Journalism consisting of 38 semester hours (except for readings option), including 35 semester hours in classroom work, sometimes referred to as classroom credits. Three of the 38 credits will be thesis or professional project, and will not require classroom work. At the doctorate level, The E.W. Scripps School of Journalism offers a doctoral degree in cooperation with the School of Media Arts & Studies.
Accreditation: The Higher Learning Commission 
Tuition: $547 per credit hour (Ohio resident); $989 (non-resident)
17. Ithaca College
Ithaca College, located in central New York state, had a rather inauspicious genesis in 1892, when it opened its doors as the Ithaca Conservatory of Music. Its humble beginning was the means for William Egbert to return to America where he could continue to play his beloved violin. By 1897, the school had blossomed, offering courses in elocution and rhetoric thanks to George C. Williams who succeeded Mr. Egbert as President of the college in the 1920's. Much has changed in 100 plus years, for example, The Hollywood Reporter — which bills itself as the authority on the film and entertainment industry — has included Ithaca College in its ranking of the top 25 film schools in the nation as of August 2015. The Hollywood Reporter notes upgrades the college has made to studio control rooms, cameras and graphics equipment in the Roy H. Park School of Communications. Among the school's alumni highlighted in the ranking are Walt Disney CEO Bob Iger- 1973 graduate.
The Roy H.Park School of Communications offers four Bachelor of Science and two Bachelor of Arts programs. At this level, there is also a Bachelor of Fine Arts in Film, Photography, and Visual Arts. At the graduate level, there is a 24-month online master's degree; it is a selective, executive-style program for communications professionals who have mastered their craft—and now want to design its future. With fewer than 10 high-potential professionals accepted into the master's program each year, your peers will be among the best in their fields, with diverse backgrounds to expand your perspective. Current students represent Showtime Networks, the MLB Network, Zazzle, Edleman, BET Networks, Paramount, 3D Systems, and the Massachusetts Institute of Technology (MIT).
Accreditation: The Middle States Association of Colleges and Schools, Commission on Higher Education
Tuition: $40,658 or $1,355 per credit hour
18. University of Southern California
The Annenberg School for Communication and Journalism at the University of Southern California was founded in 1971 with generous support from Ambassador Walter H. Annenberg. Its strategic location in Los Angeles at USC enables it to foster dynamic synergies and multidisciplinary approaches to the study of communication and journalism through unparalleled access to the nation's and the world's entertainment, media and technology industries. Our more than 17,000 alumni are leaders across all fields of communication. From being elected Long Beach Mayor, to winning a 2013 Pulitzer Prize, to being named to Forbes' most recent "30 Under 30" media list, to becoming the first female president of the University of Connecticut, our alumni have a worldwide impact in communication, journalism, public relations and public diplomacy.
One of the most versatile degrees offered at USC, a bachelor's degree in communication will expose you to communication theory and the power of messages in entertainment, sports media, politics, and intercultural and interpersonal interactions. With options in Print & Digital Journalism and Broadcast & Digital Journalism, students will focus on writing, reporting, multimedia storytelling, ethics and producing journalism. A third specialty area is public relations: for students who enjoy advocating for a cause, campaign, company or brand. Beyond the undergraduate level, there are eight Master's degree areas of interest. At the doctorate level, there are seven academic concentrations of the Ph.D. degree program.
Accreditation: The Western Association of Schools and Colleges 
Tuition: $24,732 per semester
19. Kent State University
The School of Journalism and Mass Communication (JMC), one of four schools in Kent State's College of Communication and Information. It is the only accredited school of journalism and mass communication in Northeast Ohio, and one of only 115 in the world. JMC builds media and communication leaders, as its performance in intercollegiate journalism competitions demonstrates. In 2014, JMC achieved impressive results in the William R. Hearst Foundation Journalism Awards – often referred to as the "Pulitzers of college journalism." The school finished fourth in the nation in the Hearst Intercollegiate Photojournalism competition — our strongest intercollegiate finish ever – and tenth in the nation in writing competitions. Their students also placed in the top 10 in the photojournalism news & features competition, television features competition, feature-writing competition and personality/profile-writing competition.
The School of Journalism and Mass Communication offers students a selection of specialized majors with concentrations ranging from news journalism to electronic media production, all of which lead to a Bachelor of Science Degree. Undergraduate majors are offered in: Advertising, Digital Media, Journalism, and Public Relations. As part of the coursework of all majors, students must complete professional internships in their fields of study. At the graduate level, JMC offers three areas of study: Media Management, Public Relations and Reporting and Editing. The master's program requires a minimum of 36 hours (including six hours for the thesis option or three hours for the non-thesis options).
Accreditation: The Higher Learning Commission and a member of the North Central Association
Tuition: $10,012 (in-state); $18,212 (non-resident)
20. Auburn University
Auburn University, located in Auburn, Alabama, is a public institution that was founded in 1856. In the 1920s, the Department of English was home to the first journalism courses offered on Auburn's campus. Journalism became an official major in 1934, and in 1974 became its own department. Professor Emeritus Jack Simms, an Auburn alumnus, founded the Department of Journalism. The Department of Communication made its entrance onto Auburn's campus as the Speech Department in 1949. The department became the Department of Speech Communication in 1970 before finally evolving into the Department of Communication in 1985. Today, the school has adopted the name of the School of Communication and Journalism.
This school offers Bachelor of Arts degrees in the following four majors:  Communication, Journalism, Media Studies and Public Relations. Journalism majors are prepared to work in a variety of media outlets because many graduates find employment at television stations, newspapers, magazines, online news sites, radio networks and a host of other communication companies. Students working towards earning a bachelor's degree in journalism and can select a specialization in the ten areas, from broadcast journalism to investigative journalism.The School of Communication and Journalism's Graduate Program in Communication is a 30 credit-hour program in which students will take classes in human communication, public relations, and media studies.  Integrating theory, research, and practice in these areas of communication, Auburn's goal is to provide students with an exceptional masters-level educational experience focusing on building your critical and analytical skills.
Accreditation: The Southern Association of Colleges and Schools 
Tuition: $10,424 (in-state); $28,040 (out-of-state)
21. Iowa State University
Located in Ames, Iowa, the Greenlee School of Journalism and Communication oldest journalism program in the state and one of the oldest in the country, with a chair established in 1905. Five Pulitzer Prizes won by alumni, more than any other journalism program in the state—including a Presidential Medal of Freedom, the highest civilian honor—in addition to a Pulitzer Prize-winner on staff. Greenlee claims to possess the most professional and rigorous internship program in the nation, requiring 400 hours for majors at media and advertising outlets. Other accolades include: more student organizations than any other similar program in addition to award-winning independent student media, with The Iowa State Daily and Ethos magazine. The Iowa State Daily being named the top student newspaper in the country in 2008 by the Society of Professional Journalists.
Greenlee offers an advertising major that prepares students for careers in business and industry. The journalism and mass communication major prepares students for careers that involve all aspects of news and information. An undergraduate degree in public relations degree provides students with the concepts, skills, and expertise needed to help organizations build mutually beneficial relationships. The graduate program in the Greenlee School of Journalism and Communication equips students with the theoretical and practical knowledge needed to be successful in the modern media world. The department holds Research Fridays and Teaching Fridays for students and faculty, where scholars, researchers, and notable professionals from all over the world come and share their expertise.
Accreditation: The Higher Learning Commission
Tuition: $3,324 per semester (resident); $9,884 (non-resident)
22. University of Texas-Austin
The Department of Journalism in the College of Arts was organized in 1914. The School of Communication was organized in 1966, bringing together four related departments: speech, journalism, advertising and radio-television-film. For nearly a hundred years, the Texan has ranked among the best college newspapers. It was a weekly publication from 1900 to 1907, when it became semi-weekly. In the fall of 1913, it became known as the Daily Texan. In 1921, Texas Student Publications, Inc., was created and placed in charge of all student publications. Today, the goal the Moody College of Communication, is to prepare students to be leaders in journalism's digital reinvention, we revised the curriculum – breaking down walls between print, broadcast, photographic and online journalism, and between skills and content courses.
Over the last year UT's Department of Journalism moved into the Belo Center for New Media, our new state-of-the-art building, and launched a new digital-based, state-of-the-art curriculum for undergraduates. The School of Journalism's program in sports journalism is designed to enhance development of writing and reporting skills, knowledge and career opportunities in sports journalism. At the graduate levels, The School of Journalism at The University of Texas at Austin offers intensive, uniquely designed degrees for Master's and Doctoral candidates in both professional and research arenas. The Master of Arts Degree trains graduate students for professional, academic, and research careers. UT believes the Ph.D. degree prepares graduate students for academic careers in research firms or universities.
Accreditation: The Southern Association of Colleges and Schools Commission on Colleges 
Tuition: $4,832 per semester (resident); $17,108 (non-resident)
23. University of Nevada-Reno
The first journalism course at the University of Nevada was taught in 1921 in the English department. The next year, English professor Alfred Higginbotham, who had experience as a newspaperman, began teaching two courses, then four. By 1924, six men and five women posed for a picture as the first graduating class in journalism at the university. The Reynolds School of Journalism boasts six Pulitzer Prize winning graduates. Journalism students continue to win national competitions in the areas of advertising, photo and print journalism, among others. Approximately 500 journalism major and minors are enrolled in the school, along with an annual cohort of between 8 and 14 master degree students. The Reynolds School of Journalism and Center for Advanced Media Studies connects students to the broader global conversation about the future of news and strategic communication.
Students in their freshman and sophomore years are considered pre-journalism majors.  Students are required to take the core classes before being admitted as a major to the program. Whether students aim to pursue a career in public relations, strategic communications, advertising, broadcast journalism, online news writing, data journalism or social media management, they have to master the skills taught in the core curriculum first. A master's degree in journalism from the Reynolds School is offered as an 18-month program that develops the journalist of the future to practice quality journalism.
Accreditation: The Northwest Commission on Colleges and Universities
Tuition: $6,639 per semester (in-state); $20,549 (out-of-state)
24. University of Nebraska-Lincoln
When Will Owen Jones walked into a University of Nebraska classroom in 1894 to teach the first journalism class he started a blend of professional expertise and academic excellence that continues today. Jones later became famous as editor of the Nebraska State Journal, a predecessor of the Lincoln Journal Star. The journalism courses continued to evolve until, through the leadership of English professor Miller Moore Fogg, a School of Journalism was formed in 1923. Today, the College of Journalism and Mass Communications has a national reputation for excellence and is part of the Carnegie-Knight Initiative on the Future of Journalism Education, a prestigious group of the nation's top twelve journalism schools.
The college offers majors in Advertising and Public Relations, Broadcasting and Journalism at the undergraduate level. Advertising majors have successful careers in some of the leading advertising and public relations agencies. Those who chose broadcasting will study with faculty who have significant professional experience and a vast network of industry contacts. Journalism graduates have successful careers at major news and production media companies, non-profit organizations, and small businesses. At the next level, the Master of Arts in Journalism and Mass Communications has three areas of specialization: Integrated Media, Media Studies, and Professional Journalism.
Accreditation: The Higher Learning Commission of the North Central Association of Colleges and Schools 
Tuition: $219.75 per credit hour (resident); $692 (non-resident)
25. Emerson College
Established in 1880, Emerson College, located in Boston, Massachusetts, is named for its founding president, Charles Wesley Emerson, an orator, preacher, and teacher. Over the years, the institution has evolved from a small New England school of oratory to a multifaceted college with an international reputation. Throughout its history, Emerson has shown the capacity to respond to the changing educational demands within communication and the arts. It was the first college in New England to establish an educational FM radio station (WERS, 1949), now repeatedly identified in The Princeton Review as the number one student-run college radio station in the country. It was also among the first colleges in the nation to establish a program in children's theater (1919) and one of the first colleges to offer undergraduate programs in broadcasting (1937). Currently, enrollment is 3,757 undergraduate and 758 graduate students from 48 U.S. states and 57 countries.
Emerson College offers undergraduate, graduate, and professional studies programs in communication; communication sciences and disorders; journalism; visual and media arts; performing arts; and writing, literature and publishing. The faculty includes nationally recognized scholars as well as professionals who work in these fields. Undergraduates may earn one of 22 different degrees culminating in a Bachelor of Fine Arts, Bachelor of Science, or Bachelor of Arts, depending on the student's major. At the graduate level, there are 12 degree programs, again depending on the choice of one's major. Students may earn a Master of Science, Master of Fine Arts, or Master of Arts.
Accreditation: The New England Association of Schools and Colleges
Tuition: $36,650/year